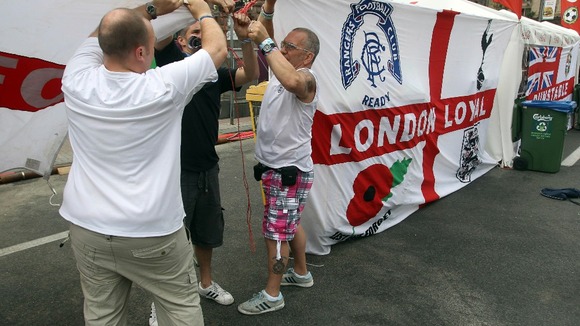 England fans at Euro 2012 have taken over part of the Uefa fan zone in Kiev in response to "rip-off" bar prices and the huge Swedish presence in the city.
They claimed the cost of a pint of beer almost doubled overnight at a bar designated as the base of the official England supporters' club.
Fans were also keen to make themselves seen and heard by the Swedes, who will vastly outnumber the English in the Olympic Stadium on Friday night.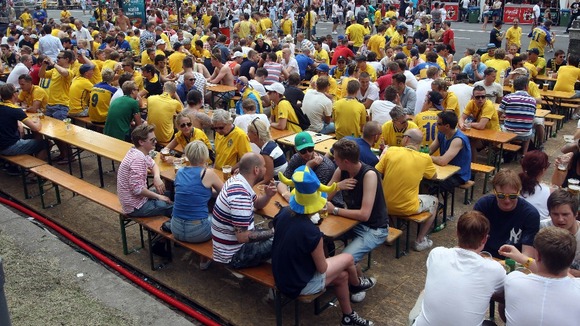 It was £2.20 for a beer but now it costs £4.10. They are trying to rip us off.
– Builder Ian Allsop, 41, from Luton

More than 100 supporters moved into the fan zone - directly opposite an area set aside for Sweden fans - where beer costs £1.50.

They hung large England flags from beer tents and serenaded rival fans with a rendition of the national anthem.
Sweden have got their own bars and restaurants so they all congregate in the same place.

But England fans are making themselves known. We're loud!
– Project manager Chris Banks, 24, from Reading
They're pretty much everywhere, it's a little part of Sweden but we've set up camp opposite them. It doesn't match up, but it's a decent effort.
– Travel agent Phil Davis, 34, from Nottingham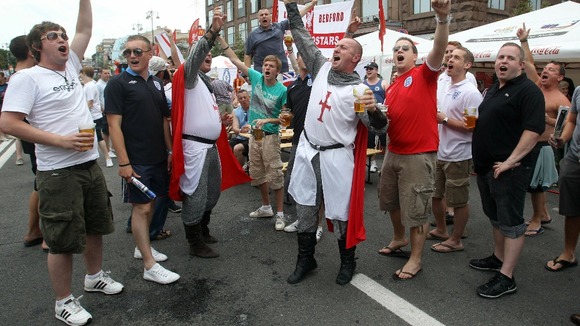 Around 20,000 Swedish fans are set to attend the match, compared with 5,000 cheering for England.
History is also against Roy Hodgson's men as the Three Lions have never beaten Sweden in a competitive match.
But England fans predicted the team could overcome the circumstances to take three points.
I think it will be 3-1 to England, and I think we'll win the group.
– Rob Stone, 51, from Derby

Anthony Oliver, 27, from Welwyn Garden City, predicted a close game but claimed England would clinch a 1-0 victory.
I think this is where we've got to snatch the points. I'd hate to go into the last game with two points, especially with the Ukrainians playing with such confidence.
– Nigel Carty, 47, who is originally from Leeds but now lives in Melbourne, Australia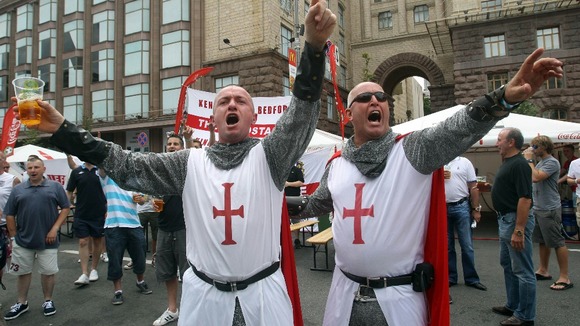 Meanwhile the England band have been given assurances they will be allowed into the remaining games at Euro 2012.
After driving 2,800 miles to Donetsk for Monday's opener with France and being granted admittance to the Donbass Arena, the band were stunned when security staff confiscated their instruments.
Following representations by the Football Association, Uefa has confirmed the band will be allowed into the game.