Wallenda prepares for Niagara Falls tightrope walk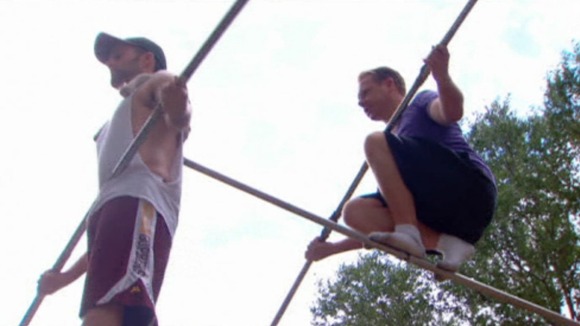 Famous stuntman Nik Wallenda will challenge himself once again by walking across the Niagara Falls on a two-inch-diameter cable, unharnessed.
He plans to cross the falls without any netting either. If he slips, his only hope will be to firmly grab the steel cable, or he'll plummet 60m into the swirling rapids below. Local emergency personnel have been preparing in the event this occurs.
Wallenda said the 550-m-long crossing could take 30 to 40 minutes.
It does look insane, and I have to give that man credit. It takes incredible amount of courage, dedication, and commitment to do what he's doing.
– Nick Catalina, a tourist to Niagara Falls, Canada

I think with all this wind and all, I don't see how he can keep his balance," another tourist said.

Wallenda, 33, is a seventh-generation scion of the Flying Wallendas family of acrobats. He gained permission to walk across the falls after waging lobbying campaigns in both Canada and the United States.

His great-grandfather Karl Wallenda died in 1978, after falling from a tightrope in Puerto Rico. But Nik Wallenda accomplished that same walk and said he has confidence in his own ability to cross the falls.

Wallenda has invested more than 1.2 million US dollars for the event, with much of the cost going to build and anchor the custom-made steel wire.

The Canadian and US government have welcomed Wallenda's televised stunt across the falls, saying it will spur tourism and bring in an estimated profit of 120 million US dollars to the tourist region.
Our hotel's been sold out. I think almost every reasonable hotel in Niagara Falls is sold out on June 15, and probably the 16 that Saturday. The town is completely packed.
– The marketing manager of a local hotel in Niagara Falls, New York.

Nik Wallenda proposed to his wife and fellow acrobat Erendira on a high wire. They have three children, who will act as a cheering squad and support crew for their father. However, Erendira said she would prefer that her children lead a less risky life.
No matter what they want to do, I will be there to support them.

(But) I'd rather have more of a normal life, just because it's so dangerous.

But like I said, I will support them no matter what.

If they want to learn how to walk the wire, then they have the best trainer, right? Their daddy.
– Erendira Wallenda