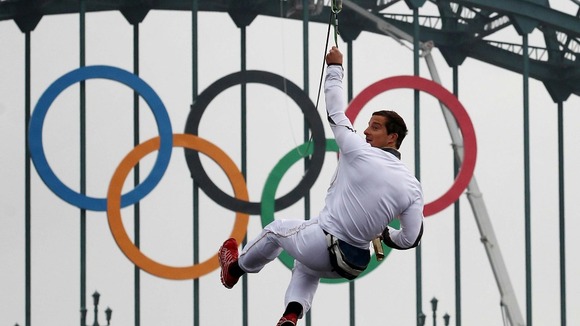 The highlight of Day 28 of the Olympic Torch Relay was the TV adventurer Bear Grylls zip wiring with the Olympic flame from the top of the Tyne Bridge, almost 200ft above the water, across the river, to the Quayside below.
Thousands watched the spectacular despite the poor weather in the North East.
Earlier organisers had urged the public to dress in warm, waterproof gear because of the chilly, wet and windy conditions.
The spectators lined the river to watch the finale of the flame's journey through Newcastle which also featured football legend Jack Charlton.
The crowd erupted in cheers as Grylls, the ex-SAS action man, completed the 400m slide from the top of the bridge's 195ft arch with fireworks. For more on this story visit the ITV Tyne Tees website.
I was kind of worried about the torch going out but it stayed alight. It was amazing.I was a bit nervous about rope and fire but it was fine and we are in one piece.

I think you're not human if you're not nervous when you're standing 200ft up and it's blowing you around a little bit. It's a long drop.

They said the torch had been tested in a wind tunnel but you don't really know.

A wind tunnel's one thing but the Tyne Bridge when it's a bit blowy is a different thing.

It's still alight, we're alive and I'm super proud to have carried the torch.

We are part of something special with the Olympics. I always think the Olympics is about the spirit of endeavour and that's something our country knows loads about.

You sense it when you come and do something like this and hear those crowds.I'm very proud.

My heart's still going for lots of reasons: a mix of fear but also pride and excitement.
– Bear Grylls after zip wiring