Camilla taste tests Royal canapes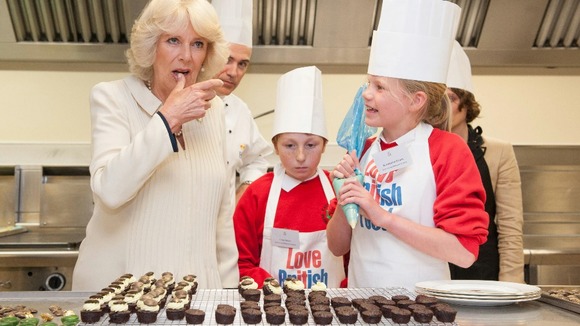 The Duchess of Cornwall was left licking her fingers in approval when she joined a group of young cooks making canapés for the Queen.
Camilla could not resist sampling some of the royal mint icing that had stuck to her hand as she added a chocolate button to a miniature pudding created by the school children.
But she found herself gently scolded by royal pastry chef Kathryn Boyden, supervising the youngsters in Buckingham Palace's kitchens, who said "we're not supposed to do that".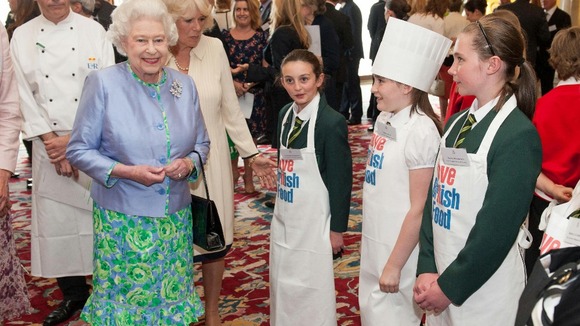 The sweet treat called royal mint princess' pudding - a tiny chocolate cake covered in mint icing - was one of many dishes created by four schools who had won the Cook for the Queen competition.
Camilla came up with the idea of setting UK school children the challenge of creating a menu fit for the monarch to mark her Diamond Jubilee.
Four winning schools were picked from more than 200 entrants and were invited to the palace to help royal chef Mark Flanagan and his team add the finishing touches to sumptuous canapés.
The Queen sampled some of the dishes privately at lunchtime and then met pupils and staff at a reception where the canapés were served to the guests who included TV chefs Jamie Oliver and Rick Stein, and Camilla's son and food writer Tom Parker Bowles.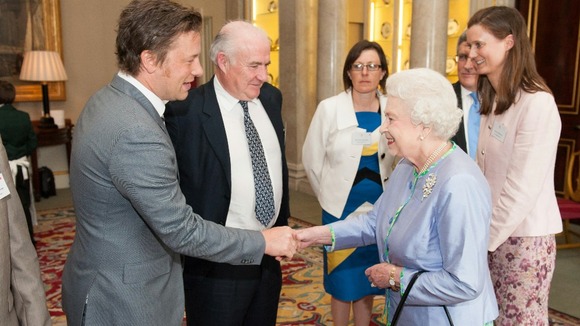 The bite-sized snacks served included mackerel pate on Scottish porridge oatcakes, lavender shortbread with cream and blae'berries, salmon fishcakes and mini Cornish pasties filled with crab, saffron and leak.
In a speech at the palace the Duchess highlighted the importance of cooking and made the guests laugh by saying:
Now I don't pride myself on being a great cook - my son, Tom, is much better than me - or so he says.

But I care passionately about good food and believe that teaching young people to cook, to understand ingredients and where they come from, should be an essential part of the school experience.

Food is so much more than mere 'lifestyle'. Through food, we can learn about history, economics, culture and the environment.

An understanding of eating well and healthily is of paramount importance, not just for our own health but for the well being of the country too.

If we can instil in children a love of real food, properly produced, as well as the basic skills of cooking, then our future is in safe hands.
– The Duchess of Cornwall

The winning schools were Eastington Primary School, in Eastington, Gloucestershire, Cape Cornwall School, St Just, Cornwall, Latimer Arts College, Barton Seagrave in Northamptonshire and St Columba's Primary School, Oban, Scotland.

Rick Stein, famed for his love of seafood, said he was pleased there were so many fish dishes amongst the winning entries.

After trying a mackerel canape he praised the Oban school children who had come up with idea:
It's really full of flavour, not too fatty, nicely smoked, well seasoned and very simply served on the oatcake - perfect.
– Chef Rick Stein

The chef also echoed the words of the Duchess and said:
Your ability to cook enables you to not get overweight, and being a better cook grows your love of food.