Daredevil set for historic tightrope walk across the Niagara Falls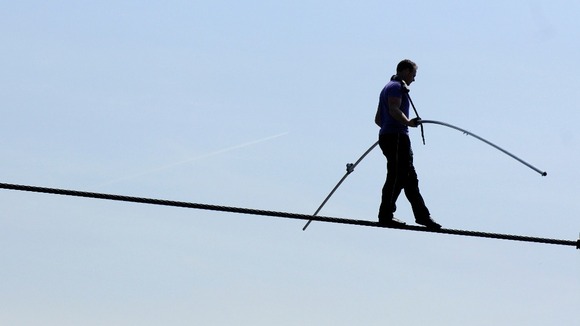 A daredevil will attempt to become the first man to walk across the Niagara Falls on a tightrope in 100 years.
Nik Wallenda has been making final preparations for the stunt which will see him walk acrossthe Horseshoe Falls - one of the two huge waterfalls that form the Niagara - on a two-inch thick rope.
Speaking at a press conference, Wallenda said taking part in the stunt would be a "dream come true".
This is the eve of a very special day.

Tomorrow is a dream come true for me - 27 years on the making and I think all of you probably know this story, but at the age of six is the first time I visited the Falls with my parents and my sister, and that was when the vision came to me to walk across Niagara Falls.
The 33-year-old will wear a safety harness - something he has never worn before - for the stunt which will take place at 10pm local time (Saturday 3am BST).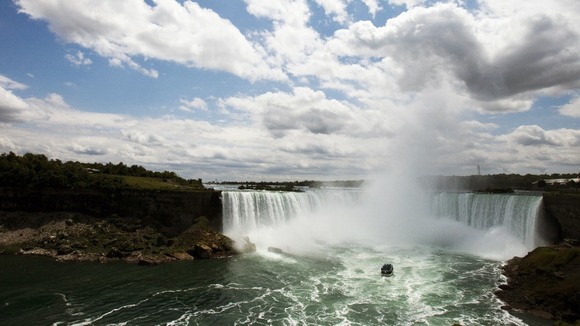 Wallenda is contracted to wear the tether after signing an agreement with American network ABC, who will broadcast the event live to their audiences. There has been speculation the daredevil will release himself from the harness once he is on the wire but Wallenda has denied this.
The only way that it would come off is if it were to be a security or a safety issue on my end between me and my father whom I'm speaking to the entire time.

If he said, 'You know what Nik, it's going to make you fall off that cable. Lose it.' That's when I would lose it, but we've trained enough with it, we know it's going to work, so the chances of that are very, very, very minimal.
The stuntman - who is from a family of daredevils called the Flying Wallendas - will be dedicating the walk to his great-grandfather who died at the age of 73, while attempting a high-wire walk nearly 34 years ago.
It's a very, very meaningful walk to me. I do everything I do in tribute to my great-grandfather Karl Wallenda who lost his life in Puerto Rico in 1978.

Probably my biggest inspiration. So everything is done to honour him. So I'll think of him as well during that walk.
The distance from one end of Wallenda's tightrope to the other is roughly 1,800 feet.