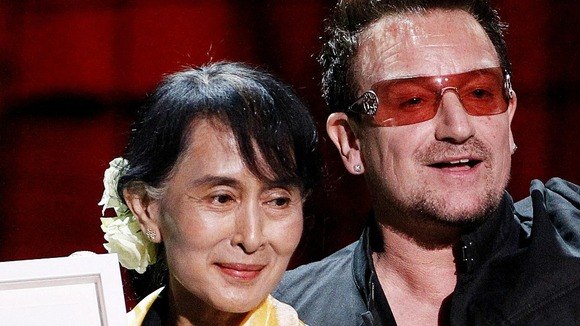 Burmese pro-democracy leader Aung San Suu Kyi has been awarded the freedom of the City of Dublin after arriving to accept an award from Amnesty International.
Ms Suu Kyi arrived in Dublin on Monday afternoon for a flying visit before arriving in the UK on Tuesday. She was met by deputy head of state Eamon Gilmore and Bono.
A visibly star-struck Bono told ITV News he was "very, very moved" to meet Ms Suu Kyi.
Earlier today Irish President Michael Higgins paid tribute to Ms Suu Kyi saying he was "honoured" to give her a warm welcome to Ireland.
Ms Suu Kyi is enormously admired in this country and her visit here is something which we have long hoped to see.

I expressed the warm welcome and admiration, which is felt for her in this country. I wished Daw Suu Kyi every success with her Irish visit and her ongoing important work on behalf of the Burmese people, which enjoys the full support of the Irish people.
Bob Geldof, Bono, Joely Richardson, Damien Rice and Jack Gleeson took part in a concert in honour of Ms Suu Kyi. She was presented with the Amnesty International 'Ambassador of Conscience' Award by Bono.
Upon receiving the award Ms Suu Kyi said:
To receive this award is to remind me that 24 years ago, I took on duties from which I have never been relieved. But you have given me the strength to carry them out. You have shown me that I shall never be alone as I go about my discharge of these duties.