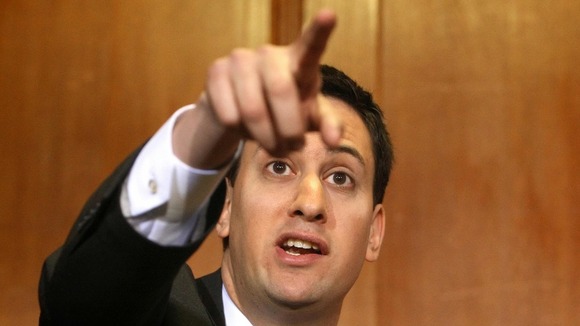 As we've reported before, a growing number of companies are trying to escape the clutches of "interest rate swaps" - policies they signed up to with their banks that were meant to protect them, but in many cases have ended up costing them dear.
Tonight, the Labour party has written to the Chancellor George Osborne, asking him to join with them in calling for the banks to back off.
After hearing of stories of firms feeling bullied by the banks when they have complained, Labour is demanding that the banks promise not to treat companies differently just because they raise concerns.
And they are calling for businesses to be given the right to get out of their 'swap' deal without having to cough up. Many businesses have found the fees to exit the deal are crippling.
In the letter below, Labour asks the Chancellor to join them in calling for the banks to make these promises ahead of a debate in Westminster on Thursday:
Dear George,

You will be very much aware of the significant concern around the issue of banks misselling derivative products to their SME customers.

There is growing evidence that this issue is on a wider scale than the banks are leading people to believe. We have met with almost fifty businesses and business organisations and have seen increasing evidence that backs up this view.

In addition to alarming descriptions of some of the practices employed by banks selling these products, we have also listened to concerns around the practices being employed by banks in response to complaints from their customers on the issue.

We have written to each of the 'big 5' banks asking for a series of assurances that we believe would offer protection to businesses affected by this issue whilst the banks continue their investigations.

In advance of the Backbench Business Committee debate due to take place on Thursday, we believe that a cross party approach offers the best prospect of a solution that protects SMEs whilst investigations are ongoing.

The specific wording of the assurances that we have requested from the banks are laid out below:

No adverse affect of registering complaints

Many businesses feel that they have cause to complain about the way that the interest rate products were sold, but are worried that to do so would result in their bank reviewing their existing arrangements and cancelling loan or overdraft products. We are calling on the bank to give a written assurance that no customer will be adversely treated because of their decision to register a complaint with the bank or the FSA.

Moratorium on foreclosure of customers that register a complaint

We are aware that your bank are doing a full review of the way that products were sold, the terms and conditions applied and the suitability of the product for the individual customer. The outcome of this review could make a material difference to your customers financial position and the likelihood of the business subsequently being solvent or profitable. We are calling on the bank to offer a moratorium on foreclosing on customers once they have registered a complaint with the bank or the FSA.

Quick resolution and suspension of unsuitable sales

We have spoken to many customers who were sold hedge products that are for much longer terms and/ or larger sums than the loans to which they were connected. We are calling on the banks to offer customers the right to cancel their hedge product without breakage penalty clause fees in cases where products were sold for longer periods than the loans to which they were attached.

Statute of limitations

Given that these investigations are ongoing we would suggest that banks applied a more generous time period of a minimum of three years from date of discovery to ensure that customers that would like to complain have adequate time to do so.

We believe that the actions and assurances that we are seeking above would demonstrate good faith on behalf of the banks. That is why we are writing to you and the Secretary of State for Business Innovation & Skills to ask you to join us in calling on the banks to implement these recommendations which will offer some security to small businesses thinking of making a complaint.

It is imperative that due legal process is allowed to take place without businesses operating under the perception that to make a complaint would lead to catastrophic consequences in their relationship with their bank.

We look forward to hearing your response presently.
– labour party letter to george osborne