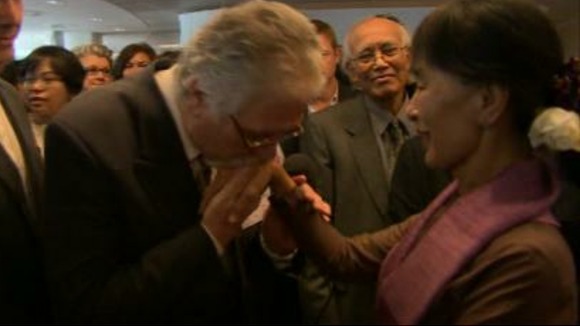 Aung San Suu Kyi met this afternoon with World Service radio DJ Dave Lee Travis, a voice she had she listened to regularly during her many years of house arrest in Burma.
Travis, or 'the Hairy Cornflake' as he is known, said he was delighted to meet her and thanked for her "kind comments" on his request show, A Jolly Good Radio Show. He said:
I am so glad to have been a part of the things that you listened to that helped you, it is a real privilege to meet you.
DJ Dave said he found it surprising that she was one of his forty million listeners worldwide. He said meeting The Lady was an "exciting" moment.
It was fantastic. Although people in this country know who I am, you somehow don't expect somebody in her situation to do so.

I was surprised that when she made her speech, she even mentioned me then. It was astonishing.
Dave Lee will be reuniting with 'the beacon of hope' later this week, when Aung San Suu Kyi is due to meet with members of the Royal family.