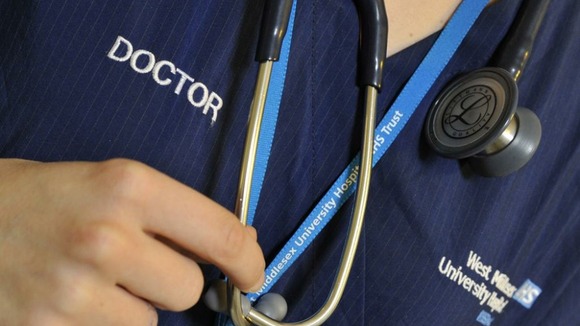 Just over 8% of doctors working in the NHS of England took part in today's industrial action over changes to their pensions. More than 20,000 patients had their appointments cancelled or postponed due to the action.
Around 2,700 operations were cancelled and rescheduled
Around 18,750 outpatients appointments were cancelled and rescheduled
Approximately 2,000 GP surgeries seen only urgent appointments (25%)
Approximately 6,000 GP surgeries seen routine appointments (75%)
ITV Science and Medical Correspondent Lawrence McGinty reports.
Health Secretary Andrew Lansley said the public would not understand why doctors were taking the action, and praised those that did not take part.
We asked doctors to recognise that their quarrel was not with patients but with the Government. I am pleased that a significant majority of doctors have done just that and maintained services for their patients.

But let us not forget that the consequence of the BMA's decision to ask doctors to go on strike has been that thousands of patients who expected to have an operation or an appointment today have been inconvenienced or distressed by delay to their care.
– Andrew Lansley, Health Secretary

The British Medical Association (BMA) announced they were going on strike last month after they accused the government of going back on an agreement reached in 2008.

The Department of Health insisted that doctors "still get an excellent pension" and that those who earn the most within the NHS should contribute the most to their pensions.

The BMA have been criticised for taking industrial action over changes to their pensions and not taking similar action over the controversial government NHS reforms. Chairman of the BMA council said the decision to strike was taken with a heavy heart:
Nobody is happy about taking any kind of action that impacts adversely on patients. There has been a lot of soul searching in the BMA but we have to represent our members' views and nearly three-quarters of those who voted wanted to take this kind of action because they were so angry about what was happening to their pensions.
– Dr Hamish Meldrum, chairman of the BMA council

The last time doctors took industrial action was in 1975, when consultants suspended 'goodwill activities' and worked to their contract minimum, and junior doctors worked to a 40-hour week over a contract dispute with the government.