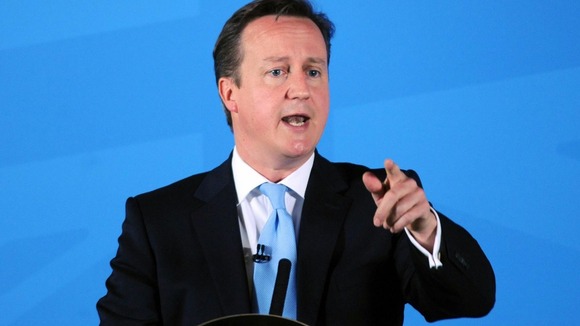 The Government could break the link between benefits and inflation in order to save money on the £84 billion bill for working-age welfare, the Prime Minister has suggested.
In a major speech on the welfare system, David Cameron set out his determination to end the "culture of entitlement" which sees some people living long-term on welfare with higher incomes than neighbours who work.
Mr Cameron floated a number of ideas including:
Stripping housing benefit from the under-25s
Removing the right for high-earners to keep their council homes
A reduction in the £20,000-a-year cap on housing support
Limits on the additional benefit received by families with three or more children
Asking those who receive long term unemployment to do community work
He told an audience in Kent:
"We have, in some ways, created a welfare gap in this country, between those living long-term in the welfare system and those outside it.

Those within it grow up with a series of expectations: you can have a home of your own, the state will support you whatever decisions you make, you will always be able to take out no matter what you put in."
You can read the full text of David Cameron's speech here.
Mr Cameron also admitted he is straying into "difficult territory", and his speech may upset his coalition partners, but he said it is time to "think harder" about who receives benefits as hard working families may "resent" people on benefits.
The Deputy Prime Minister Nick Clegg said David Cameron was "entirely free" to speak as a leader of the Conservative Party about "his own personal ideas about the kind of things he would like to see happen after 2015".
The Shadow Work and Pensions Secretary Liam Byrne has slammed the Prime Minister's suggestion of axing housing benefits for the under-25s.
He told ITV Central that it would put "barriers" in the way of young people moving to areas where there are jobs:
Mr Cameron's ideas triggered concern among groups representing young people and the poor, with warnings that many young people could be forced into homelessness.
Matthew Reed, chief executive of The Children's Society, said:
"Financial help through the benefit system provides a vital lifeline for hundreds of thousands of children. Taking this away in yet further cuts to welfare would be a complete disaster for so many children up and down the country.

"We welcome the Prime Minister's assurances that housing benefit will not be taken away from young people leaving the care system. But there are significant numbers of under-25s who simply won't have the option of staying with friends or family. Many young people could be forced into homelessness."
– Matthew Reed, chief executive of The Children's Society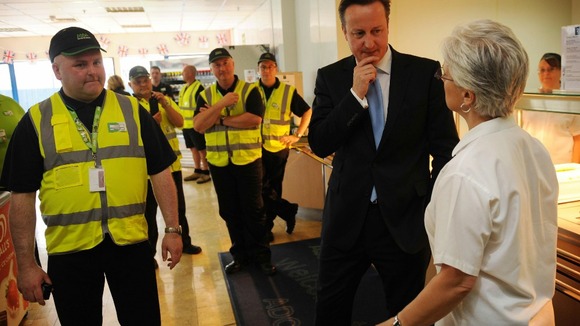 Earlier, staff at an Asda distribution centre near Dartford were given the chance to quiz the Prime Minister.
They spoke frankly about how difficult it is to get on the property ladder.
You can watch David Cameron talking to the workers on ITV Meridian.