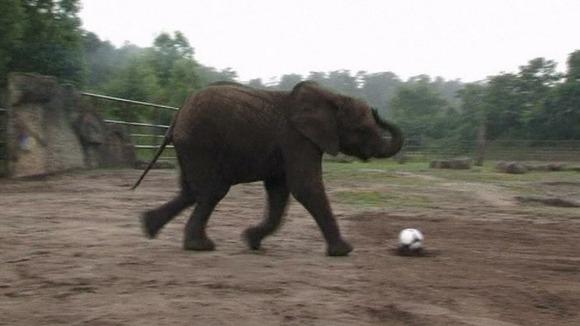 There's been a psychic octopus, pig and ferret. Now Germany's unofficial oracle, Nelly the elephant, is predicting a semi-final win.
As far as psychics go, they don't come as heavyweight as Nelly the elephant who is predicting a win for Germany over Italy in the Euro 2012 semi-final this Thursday.
Germany's oracle packs a punch with her predictions by shooting a goal into one of two goals at Serengeti-Park in the northern German city of Hodenhagen.
Her keeper Fabrizio Sepe, himself an Italian living in Germany, said:
Nelly made a very clear decision today: with her left leg she kicked the ball into the Italian goal. Very clear victory for Germany.

On one side I am very happy for the German team. I have been living here for many years, 19 it is, and am very happy about a German win. But as a born Italian and total tifoso (sports fanatic) I cry a little bit.