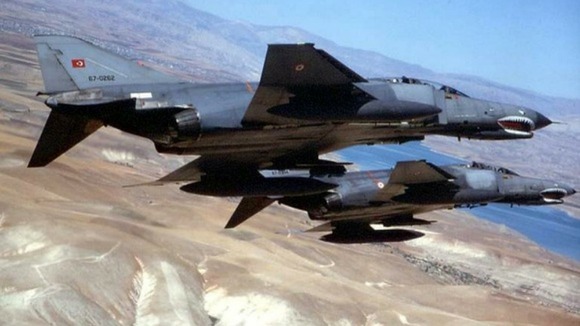 Turkey has accused Syria of shooting down on of its military reconnaissance jets in international airspace without warning and summoned a NATO meeting for Tuesday to decide how to respond.
A search and rescue attack is still underway to locate the jet pilot planes.
Newspapers in Turkey are calling the attack a declaration of war, and have welcomed Prime Minister Tayyip Erdogan's decision to invoke an article in the NATO alliance's founding treaty that provides for urgent consultations when a member considers its security interests threatened.
Turkey's cabinet will meet later today to discussed the incident. Sally Biddulph reports.
The international community was quick to condemn the attack. Italian Foreign Minister Giulio Terzi said the shooting was "unacceptable" and said Italy would take an active part in NATO consultations on Tuesday.
The US Secretary of State Hilary Clinton said it was a "brazen and unacceptable act".
Foreign Secretary William Hague said the "outrageous" act sumply undermined the urgent need for Bashar Assad's regime to go:
This outrageous act underlines how far beyond accepted behaviour the Syrian regime has put itself and I condemn it wholeheartedly.

My thoughts and sympathies are with the families and friends of the missing Turkish pilots. I have made clear to Foreign Minister Davutoglu the UK's strong support for the Turkish government at this difficult time.
The Assad regime should not make the mistake of believing that it can act with impunity. It will be held to account for its behaviour. The UK stands ready to pursue robust action at the United Nations Security Council.

This deplorable incident underlines the urgent need to find a solution to the current crisis in Syria in order to bring an end to the violence and to achieve a genuine political transition. We support the Joint UN and Arab League Special Envoy's continuing efforts on this.