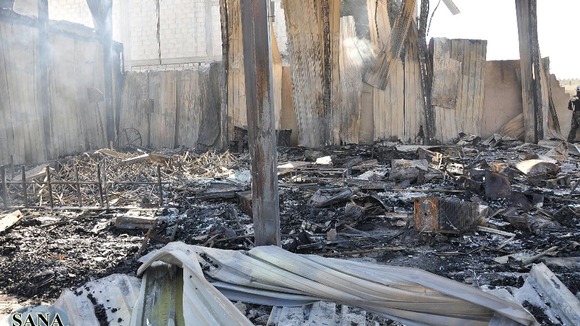 It's always the small details you remember. Next to the dried pools of blood shed by the men murdered in an attack on their television station, were the footprints, in blood, of the gunmen who had killed them. It is not evidence however that Syria's police will use to try to track the killers, because the police haven't been to the station yet.
Then there's the make up room-utterly incongruous beside the human remains of those who once used it.
Twisted headphones lie on the floor of the charred newsroom, beside the script of a news story on the latest twist in the Syrian conflict, a conflict that arrived at the door of the newsroom early this morning.
Small ironies and details that make up this brutal new milestone in a terrible civil war.
We don't know why the rebels attacked the Al Akbariya station. I know several of its journalists and they did their work like journalists do all over the world. Their station was pro-government and although funded privately, it had strong links to the Ministry of Information.
As I walked through the rubble, one reporter told me that he thought the rebels wanted to send a message to the media in Syria that their days were numbered.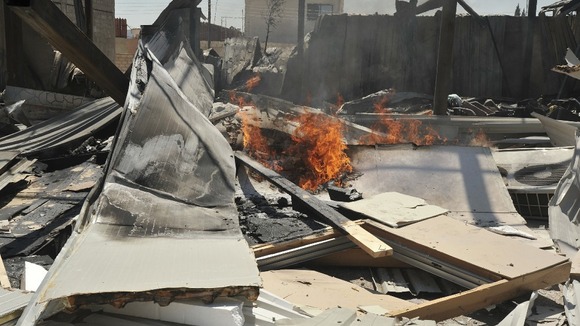 The journalists I met there today were scared; too scared to appear before the cameras they are so familiar with. One told me his cousin was one of the eleven men kidnapped by the attackers.
"Kidnapped means dead', he told me.
"I hope he dies quickly,because normally they torture them first".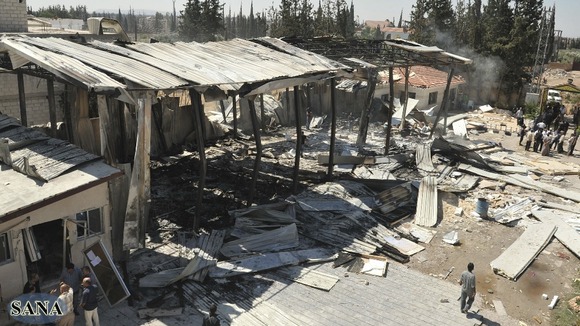 No mercy was shown to those they killed last night. State television report seven killed. A graphic designer was tied by the hands with string. Beside him were a driver and a security guard. They must have been sitting or kneeling when they were murdered - the bullet holes were very low in the wall behind them.
No one has claimed the attack. One activist said the gunmen were army deserters. There were certainly a lot of them. I was told perhaps thirty, in ten vehicles.
The problem for the attackers - let's assume for a moment that they are rebels - is a moral and political one.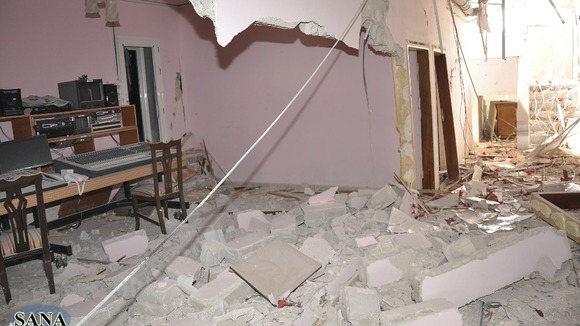 This was a new front in their war. They attacked not a military target but a civilian one - media workers. They claim to be fighting for the freedom of Syria yet they clearly don't include the freedom of the press in that. There's a contradiction in their cause. They now join the regime in the dubious tactic of deliberately killing journalists.
They have crossed a line but I don't expect they care. This is an increasingly brutal war. And after President Assad's declaration yesterday that it is a war, we can all stop the hairsplitting about whether or not to call it a civil war. The journalists who died at their station today would certainly have called it that.