Pigs strut their stuff down the catwalk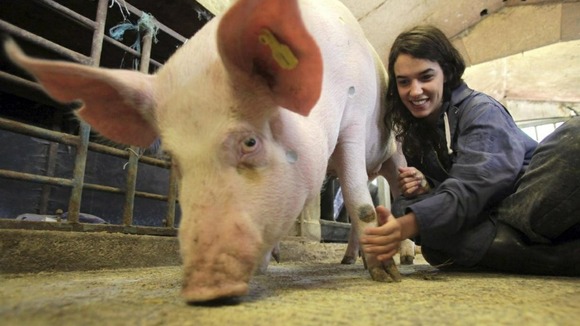 Scientists have begun the search for the pig with the best legs to strut her stuff on the catwalk.
A project to improve health and welfare on UK pig farms has been launched using technology from Hollywood blockbusters such as Avatar and Lord Of The Rings.
Experts at Newcastle University have filmed animals walking along a catwalk and analysed in great detail the angle of their joints and the length of their stride.
They used video motion capture to get an accurate picture of how the pigs move along the runway.
Sophia Stavrakakis carried out the research for her PhD:
Female breeding pigs are particularly prone to leg problems and this makes it costly for farmers when an animal becomes lame because of the time and money invested in the breeding stock.

Through this we hope tobe able to develop a farmer-friendly system that will allow them to identify those pigs with better legs, a trait that can be passed on to subsequent generations.
– Sophia Stavrakakis, who carried out the research as part of her PhD

The aim was to assess what constitutes good gait in pigs, as compared to pigs that have mobility problems.

The idea is to reduce lameness, which is currently a major problem in the pig industry.

As part of the study, the pigs were trained to walk along a runway.

Once the pigs had learned to walk at the right speed, the team attached reflective markers at key points on their legs and used motion capture cameras to track their movement and identify those parameters which can indicate a good pig.
Making sure the pigs all walked at the same pace was crucial because otherwise you can't accurately compare leg movement and angles."
– Dr Jonathan Guy, lecturer in animal science

The results provide an initial benchmark against which other pigs can be assessed.

It is hoped that in the future pig farmers could film their ownlivestock walking past a camera and use the research findings to check for pigs that walk well.