The Libor-rigging scandal has claimed its first scalp, as Barclays confirmed its chairman Marcus Agius is to step down.
Mr Agius, who was chairman for six years, said:
This has been a period of unprecedented stress and turmoil for the banking industry in particular and for the wider world economy in general
ITV News reporter Sejal Karia reports:
The move comes after Barclays was fined £290 million by UK and US regulators for manipulating the Libor, the rate at which banks lend to each other.
Barclays non-executive director Sir Michael Rake has been appointed deputy chairman, the bank said Mr Agius will remain in post until an "orderly succession is assured."
I am truly sorry that our customers, clients, employees and shareholders have been let down. Barclays is full of hard-working, talented individuals whose integrity is not in question.
– Marcus Agius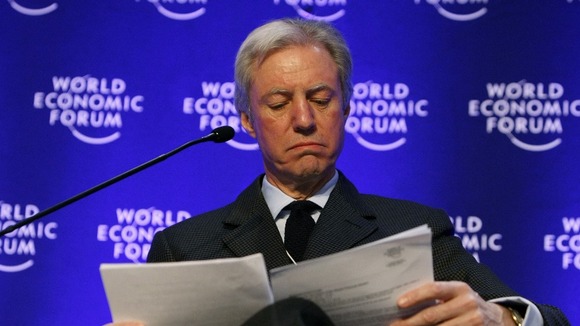 The bank has also agreed to launch an audit, led by Sir Michael, to review "flawed" past practices that have been revealed.
The audit will have three objectives:
to undertake a root and branch review of all of the past practices that have been revealed as flawed since the credit crisis started and identify implications for our business practices and culture going forward;
to publish a public report of its findings; and
to produce a new, mandatory code of conduct that will be applied across Barclays.
Last week's events - evidencing as they do unacceptable standards of behaviour within the bank - have dealt a devastating blow to Barclays reputation.

As chairman, I am the ultimate guardian of the bank's reputation.

Accordingly, the buck stops with me and I must acknowledge responsibility by standing aside.

It goes without saying that Barclays will continue to have my wholehearted support in the future.
– Marcus Agius

Richard Edgar on why Mr Agius had to 'do the honourable thing.'

Barclays chief executive Bob Diamond said Mr Agius's decision "deserves all of our respect":
He has been a thoughtful and supportive colleague to me in all of my roles - especially since I became chief executive last year - and for this I will always be grateful.

I welcome the board's undertaking of an independent, third-party audit of our business practices.

I am committed to ensuring that the recommendations from this review are implemented in full, as part of a broader programme to continue to build a culture that all of those with a stake in Barclays can be proud of.