Usain Bolt beaten by Yohan Blake second time in 48hrs in 200m at Jamaican Olympic trials
Olympic champion Usain Bolt was beaten by Yohan Blake in the 200m final at the Jamaican Olympic trials on Sunday.
Blake crossed the line in 19.80 seconds, 0.03secs ahead of the world record holder.
It was Bolt's second loss to his training partner in 48 hours.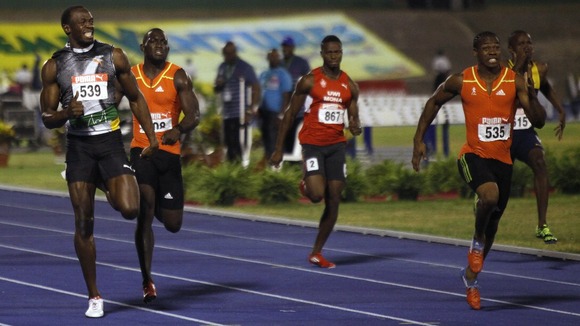 Blake, 22, had been quicker in Saturday's semi-finals, running 19.93secs, while Bolt won his heat in 20.26secs.
Blake said of his second triumph over Bolt:
"A lot of people gave me encouragement, said 'Yohan Blake, you can do it'. I just wanted to keep performing and keep going."
– Yohan Blake

After this latest and unexpected defeat, Bolt said:
"I'm the Olympic champion so I need to show the world I'm the best. It's not like I was blow away or anything so I know what I need to do."
– Usain Bolt

He later tweeted:

Thanks for all the support fans. See you in London.

Fans have been left stunned by Bolt's second loss to Blake, some tweeted their reaction:

i feel bad 4 Usain bolt, not really a fan of the sport but when you're the worlds best n u start getting beating this close to the olympics.

So Yohan Blake beats Usain Bolt twice in 48hrs...hmmmm Usain watch out!!!

Usain Bolt what is happening to you fella?! Two losses on bounce, my word

On Friday, Blake surprised Bolt in the 100m final when he moved out of the blocks the quickest and went on to record an impressive 9.75, beating Bolt by 0.11 seconds.

It was the fastest 100 metres in the world this year.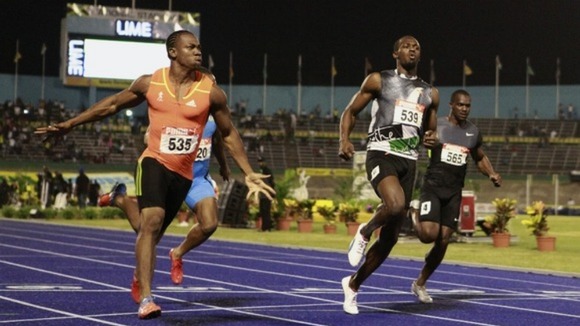 After eclipsing his personal best of 9.82, Blake said after the race:
"Everything is good. I'm just fortunate. "I'm the national champion of Jamaica now, I go into the Olympics like this."
– Yohan Blake

After Friday's race Bolt was filmed looking very unhappy as he spoke to his coach.