Kim Jong-Un's mystery woman sparks speculation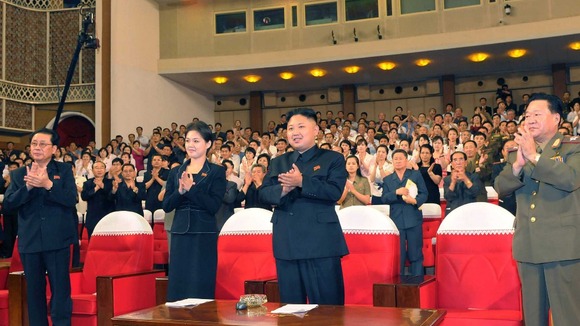 A mystery woman's appearance with North Korea's young new leader has sparked speculation about her identity.
Rumours have suggested the woman could be Kim Jong-Un's girlfriend, sister or even a former member of a band, whose hits include the song 'Excellent Horse-Like Lady'.
North Korean TV yesterday showed a woman in a black jacket and skirt bowing with Kim at a ceremony marking the 18th anniversary of the death of his grandfather, North Korean founder Kim Il Sung.
She is believed to be the same woman shown on Saturday seated next to Kim at a concert. The North's Rodong Sinmun newspaper today ran a photograph of Kim and the woman on its website.
But North Korea has released no details about her.
The Daily Telegraph reports that Kim Jong Un's mystery woman is Hyon Song-Wol who used to front the Bochonbo Electronic Music Band and was hugely popular among the North Korean Masses. Sources allege the pair were involved romantically 10 years ago but Jong-Un was asked to call the relationship off by his late father.
Latest reports: Kim Jong-un's mystery girlfriend is singer famous for 2005 hit "Excellent Horse-like Lady" http://t.co/cLFuNd0l
The video below shows a performance of The Bochonbo Electric Music Band.