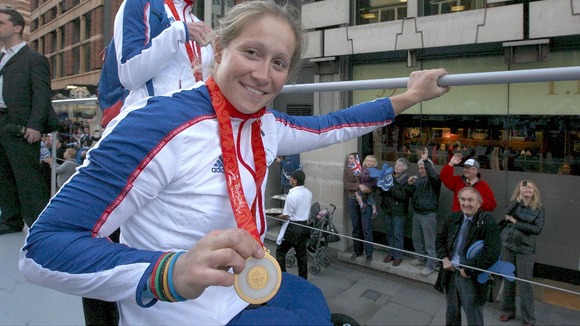 Cycling champion Rachel Morris's hopes of defending her Paralympic title have suffered a set back after she suffered whiplash and shoulder injuries when she was hit by a car in Surrey.
Morris is now in a race against time to be on the start line for the time trial and road race at the LondonParalympics in August.
She was six minutes into a time trial near her home town of Guildford last week when a car ran into the offside of her hand-cycle. She managed to get as close to the kerb as possible as the off-side wheel of her bike was destroyed.
This has totally screwed me up. I feel like everything I've worked for has been taken away. I can't imagine not being there, but I know how long it has taken me to recover from this type of injury before, and it was longer than I now have before the Games.
Morris has a condition called reflex sympathetic dystrophy
It involves a malfunction of the nervous system that causes extreme pain
When she injures herself, her body reacts in an abnormal way and destroys itself
All our sympathies and support go to Rachel and we very much hope she can recover in time to compete in the Paralympics. This is an illustration of how the road safety issues which we are campaigning on are vital to all cyclists, from elite competitors like Rachel to anyone who rides to keep fit or to get from A to B.
– Martin Gibbs, Director of Policy and Legal Affairs, British Cycling