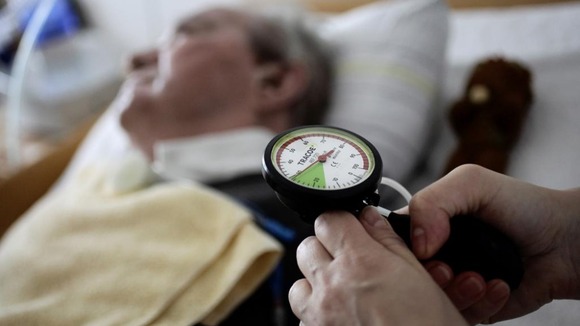 Pensioners moving into residential care will be given state loans so they do not have to sell their property immediately, under new plans unveiled by Health Secretary Andrew Lansley. The new measure is part of the White Paper on social care introduced into Parliament today.
Every year approximately 40,000 elderly people are forced to sell their homes to pay for the cost of their care. Under the new scheme loans will be made available from councils at nominal interest rates, and the sum will be paid back after their death. £300 million will be transferred from the NHS to local authorities to cover the costs.
Mr Lansley said the plans will reassure people that they will not lose their homes should they need specialist care in their old age.
Our Political Correspondent Alex Forrest looks at what the changes will mean.
Other plans include many of the key recommendations of the Dilnot Commission, an independent body tasked back in 2010 to come up with a plan to fund the spiralling costs of social care for the elderly. Andrew Dilnot, chair of the Commission said:
The issue of funding for adult social care has been ignored for too long. We should be celebrating the fact we are living longer and that younger people with disabilities are leading more independent lives than ever before. But instead we talk about the 'burden of ageing' and individuals are living in fear, worrying about meeting their care costs.

The current system is confusing, unfair and unsustainable. People can't protect themselves against the risk of very high care costs and risk losing all their assets, including their house. This problem will only get worse if left as it is, with the most vulnerable in our society being the ones to suffer.
The Dilnot Commission recommended a number of urgent changes, which they estimate will cost £1.7 billion.
An individuals contribution towards their social care costs should be capped at £35,000
The means-tested threshold should be raised from the current rate of £23,250 to £100,000
All adults who need care should be eligible for free state support immediately, and should not have to wait until they have been means tested.
Health Secretary Andrew Lansley said he supported the 'principles' of the Dilnot report and that they would form the basis of any new funding models, but that this cannot happen until after a spending review.
Theresa Quinn cares for her mother Violet who has dementia and parkinsons. Her 83-year-old mother was forced to sell her home to pay for residential care, but Theresa took her out of the home because she said the care was not good enough.
Theresa says the Government's White Paper does not give families more choice. She said families need more funding, not "cop-out" loans.
Labour have said the Government should implement the recommendations of the Dilnot Commission, and should use the NHS under-spends to do so. Shadow Health Secretary Andy Burnham said:
Today's proposals are meaningless without the money to make them a reality. George Osborne should get his act together and hand back half the money he has taken from the Health budget.
Last year £1.4 billion has been taken back from the health budget and Mr Burnham says the Government should use this money to ease the burden being placed on councils and the NHS.
The Alzheimer's Society said the White Paper was a "massive let down" and a betrayal. Gayle Willis said people with living with dementia and their families need radical action from the Government, not "tinkering around the edges."