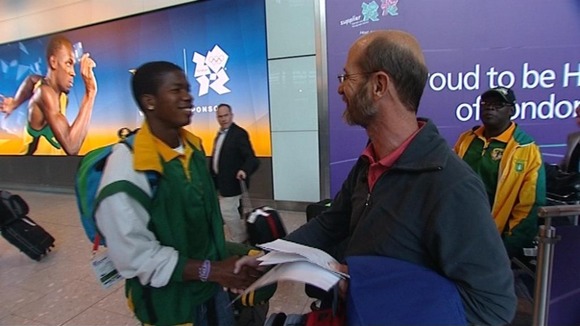 J'maal Alexander and Tahesia Harrigan-Scott will represent the British Virgin Islands at London 2012 Games. They make up one of the smallest teams competing in the games, due to begin in just 11 days time.
They have been training in a small village in Hertfordshire and have been enjoying the local hospitality. ITV News reporter Rags Martel reports.
The warm welcome is going some way to help the athletes cope with the miserable British weather. J'maal Alexander said he was finding the cold rain difficult to acclimatise to:
The weather is much much much more cold, because in the Virgin Islands it is hot, even when it is raining it is still hot.
Tahesia Harrigan-Scott said staying with a host family has been a great experience for her, and has enabled her to save precious funds.
Their hospitality is great and to know that they put away their entire schedule to accommodate us and make us feel at home is wonderful.
Pauline Greasby from Aston in Herfordshire said she was happy to open her home to support the athletes. She said:
By Tahesia staying her it allows her to spend more money on her equipment and the things that they need to win the Olympics.