A gunman in a gas mask and body armour killed 12 people at a midnight premiere of the new Batman film in Denver, US.
The attack - which injured 59 others including children - started when the suspect hurled a gas canister into the room and then opened fire on the audience.
James Eagan Holmes, 24, who dropped out from studying neurosciences at the University of Colorado last month, was named by police as the suspect. Aurora police said they are "confident" he acted alone.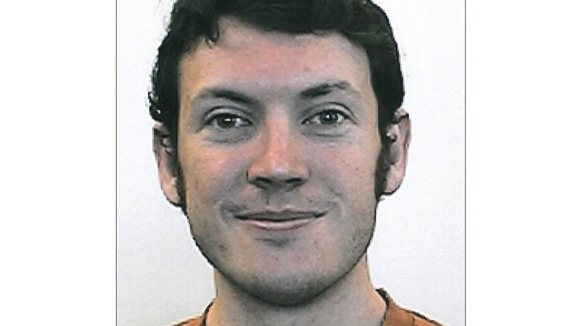 Holmes's family issued a statement of sympathy for the victims and asked for privacy while they "process this information."
The suspect also booby trapped his Aurora apartment which was crisscrossed with trip wires connected to what appeared to be plastic bottles containing an unknown liquid.
The pictures are fairly disturbing. It looks very sophisticated, how it's booby-trapped. It could be a very long wait.
– Dan Oates, Aurora Police Chief

Officers took the suspect - who was armed with a high-powered rifle, a shotgun and two pistols - into custody in the car park behind the cinema, he surrendered without a fight police said.

Eyewitnesses said the gunman appeared at the front of the cinema during the film and released a canister which let out a hissing noise before gunfire erupted.
When we got out of the theater it was just chaos. There was this one...guy, was on all fours crawling. There was this girl spitting up blood.

There were bullet holes in some people's backs, some people's arms. There was this one guy who was stripped down to just his boxers. It looked like he was shot in the back or something. It was crazy.
– Eyewitness Donovan Tate told KCNC television

Confusion reigned as the shooting broke out, with one person in the cinema saying he thought it was a "stunt".

President Barack Obama urged Americans to "stand together" with the people of Aurora and said political campaigning ahead of the November 6 election should be put aside, during a previously scheduled campaign event in Florida.
There are going to be other days for politics. This, I think, is a day for prayer and reflection.
White House officials saw no connection to terrorism, an Obama spokesman said.
Obama's opponent, Republican presidential candidate Mitt Romney said he was "deeply saddened" by the events and pulled all political television adverts in Colorado until further notice.
Ann & I are deeply saddened by the news of the violence in CO. Praying for the loved ones of the victims during this time of immense grief.
The shooting evoked memories of the 1999 massacre at Columbine High School - which is only 17 miles away from Aurora - where two students opened fire and killed 12 students and a teacher.
In New York, police will deploy officers at screenings of The Dark Knight Rises throughout the city "as a precaution against copycats," Police Commissioner Raymond Kelly said in a statement.
Jessica Zacholl, a spokeswoman for Time Warner-owned Warner Bros., the studio behind the film, said:
Warner Bros. is deeply saddened to learn about this shocking incident. We extend our sincere sympathies to the families and loved ones of the victims at this tragic time.