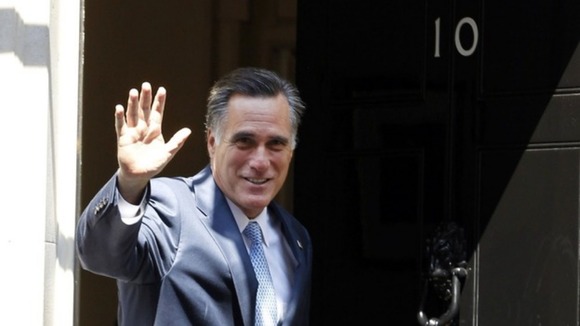 The Republican US presidential candidate Mitt Romney's trip to the UK did not get off to the best start after he told NBC News on Wednesday evening that there were "disconcerting" signs around the Games:
Mr Romney who will attending the Olympics opening ceremony on Friday, said:
It's hard to know just how well it will turn out. There are a few things that were disconcerting: the stories about the private security firm not having enough people, supposed strike of the immigration and customs officials, that obviously is not something which is encouraging.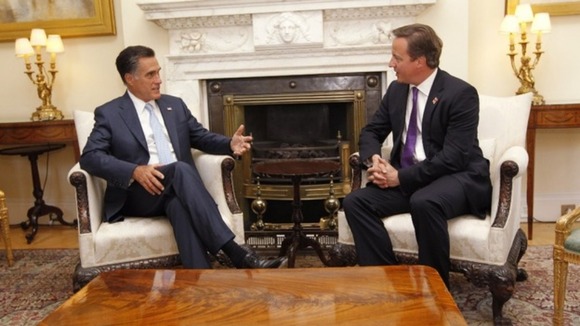 But after his discussions with Prime Minister David Cameron in 10 Downing Street, the Republican presidential hopeful back tracked and was full of praise for London's preparations.
Mr Romney told reporters:
"I don't know of any Olympics that has been able to be run without any mistakes whatsoever.

But they are small and I was encouraged to see that something that could have represented a real challenge, which was the immigration and customs officers on duty, was something that was resolved and people are all pulling together."
He was also full of praise for the London organisers' efforts to involve as many people as possible in the Olympic experience.
But he is likely to regret this turn of phrase:
I also applaud the work of the organising commitee at bring the Olympic experience right into the heart of London to look out of the backside 10 Downing Street
Speaking ahead of a special Olympics concert in Hyde Park, London's Mayor Boris Johnson said:
And there are some people who are coming from around the world who don't yet know about all the preparations we've done to get London ready in the last seven years.

I hear there's a guy called Mitt Romney who wants to know whether we're ready? Are we ready? Yes we are! The venues are ready."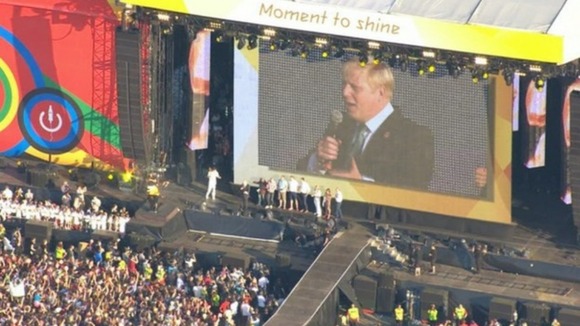 Earlier, David Cameron faced questions about Mr Romney's comments at an eve-of-Games press conference with organiser Sebastian Coe at the Olympic Park and said:
We are holding an Olympic Games in one of the busiest, most active, bustling cities anywhere in the world.

"Of course it's easier if you hold an Olympic Games in the middle of nowhere.
– Prime Minister David Cameron

But some observers thought the PM may be drawing a pointed contrast with Mr Romney's own experience as chief executive of the Salt Lake City Winter Olympics in 2002 when he said: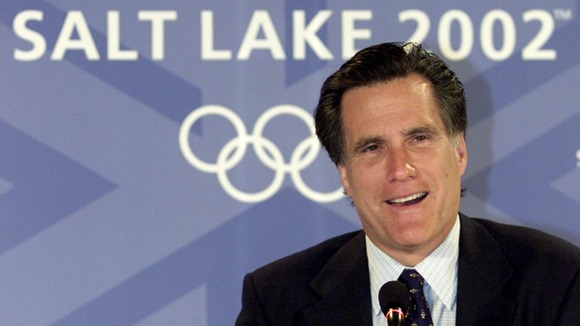 This prompted the following response from a spokesman for Salt Lake City Mayor Ralph Becker:
Prime Minister Cameron's comments likely reflect his lack of familiarity with Salt Lake City.

We'd welcome the opportunity to share all that we enjoy here with the PM, including a great number of assets that you'd be hard-pressed to find in London.

We also hosted the most successful Olympic Winter Games, ever.

He can stop by, any time…we'd love to have him and happy to send a map so he doesn't run into any trouble locating the middle of nowhere."
– Spokesman for Salt Lake City Mayor Ralph Becker, Art Raymond

Mr Romney's visit to London also took in talks with Chancellor George Osborne, Deputy Prime Minister Nick Clegg, Labour leader Ed Miliband, former PM Tony Blair and MI6 chief Sir John Sawers.

There was some speculation on Twitter that he might have momentarily forgotten Mr Miliband's name, after he addressed him in front of the TV cameras as "Mr Leader".

The shaky start to Mitt Romney's foreign trip was also picked up by US media.

The Washington Post reports he ended up "getting dissed" by Boris Johnson.

But the paper is also quick to point out the parts of the preparations that haven't exactly gone to plan.

The Presidential hopeful will need to work a bit harder to show he has got what it takes to represent the US on the world stage.