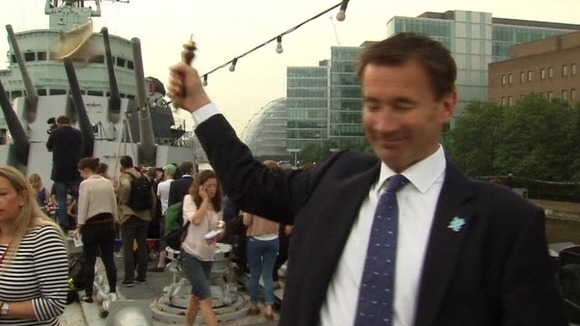 Jeremy Hunt was left red-faced when a bell he was ringing flew off its handle during an Olympics celebration - narrowly missing an innocent bystander.
The Culture Secretary was ringing the bell enthusiastically on the deck of HMS Belfast when the brass become detached from its wooden handle and shot through the air above the deck of the Second World War cruiser.
He watched helplessly as the bell disappeared among a group of Olympics fans, his face betraying the horror that a bystander maybe seriously hurt.
But fortunately the bell missed hitting anyone, with a clearly relieved Mr Hunt caught saying: "Oh, oh dear! Are you all right? We nearly had a terrible moment there Health and safety! Are you OK? There we are, disaster averted."
The Belfast is permanently moored on the Thames near London's Tower Bridge, with Mr Hunt aboard as part of the All the Bells celebration as people across the country rang bells to mark the start of the 2012 Games.
Moments before the incident Mr Hunt said he couldn't say there "won't be hitches" during the 2012 Games.
The Tory minister later made light of the near-miss, comparing it with a scene from the BBC comedy Twenty Twelve.
He wrote on Twitter:
Hundreds of people have also reacted to the incident on social networking sites:
Dear LOCOG - save millions by scrapping opening ceremony and just play the Jeremy Hunt video over and over for two hours, fun guaranteed
Ding dong merrily on high, In Lond'n the bells are ringing; Ding dong! Jeremy Hunt is nigh; Ding dong! The bells are breakin!