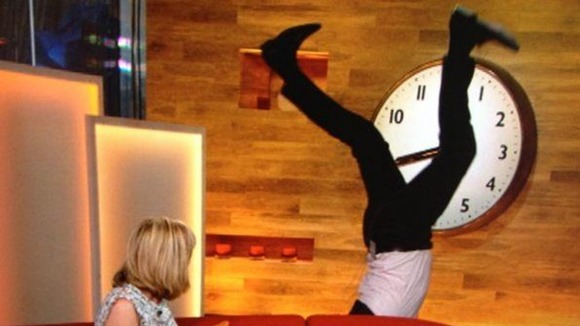 Watching Great Britain's men's gymnastics team in action is a sight to behold, but their feats should not be attempted at home, or on live television.
Unfortunately no-one said that to Dan Lobb, the co-presenter of ITV's Daybreak.
Having watch Great Britain's men's team win a bronze medal in the Olympic Artistic Gymnastics last night he was inspired to demonstrate his own skills by doing a handstand on this morning's programme.
To make matters more embarrassing, the most successful British figures skaters of all time, Jayne Torville and Christopher Dean, were sitting just a few feet away.
Dan Lobb later tweeted that he was "devastated" not to have executed one of his "great handstands".
I'm devastated - I can actually do great handstands but the occasion got the better of me. Live on tv with Torvill & Dean 6ft away...
Earlier in the show, the British men's Olympic team told Mr Lobb that they were "ecstatic" about winning an Olympic bronze medal despite closely losing out on a silver.