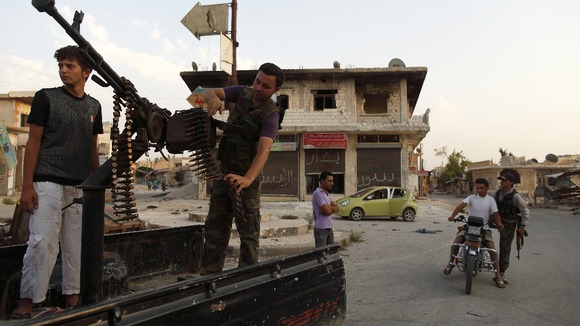 United Nations humanitarian chief Baroness Amos has told ITV News that she is increasingly concerned for the people of Aleppo and fears that it may be a repeat of what happened in the Syrian city of Homs.
There have been new reports today of helicopter gunship attacks as the army pushed on with its offensive to retake the city. ITV News Correspondent Neil Connery's report contains flashing images from the start.
Baroness Amos said that the situation in Aleppo is "very similar" to Homs, with thousands of refugees fleeing into neighbouring countries.
Today, Foreign Office minister Alistair Burt warned the worsening civil war would attract jihadists to the country to fill the void created by fierce battles between Assad's forces and rebels. Mr Burt said:
It must be true to say that since the initial pressure and opposition against the Assad regime, which was local, the fight has been joined by others.

We said at a very early stage that unless this finished early, unless the proposals to have a ceasefire and get political transition going in Syria among Syrians happened, then the fight would be joined by others from outside. There is clear evidence of this.
Mr Burt told BBC Radio 4's World At One the battle for Syria's second city, Aleppo, showed why a United Nations Security Council resolution increasing the pressure on Assad should have been agreed earlier this month.