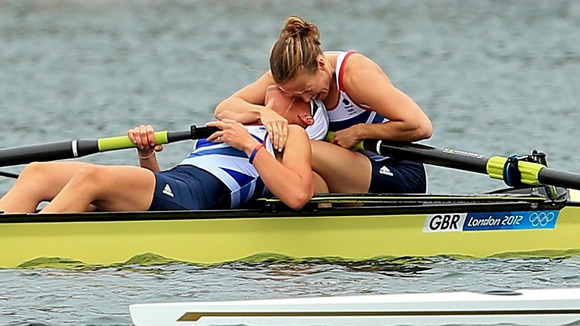 Helen Glover and Heather Stanning have won Great Britain's first gold medal of the London 2012 Olympic Games in the women's rowing pairs.
The pair dominated the competition maintaining clear water between their closest competitors throughout the race at Eton Dorney.The home favourites were the crew to beat, having dominated the boat class all summer with victories at all three World Cup regattas.
Great Britain has never before won a gold medal in Olympic women's rowing.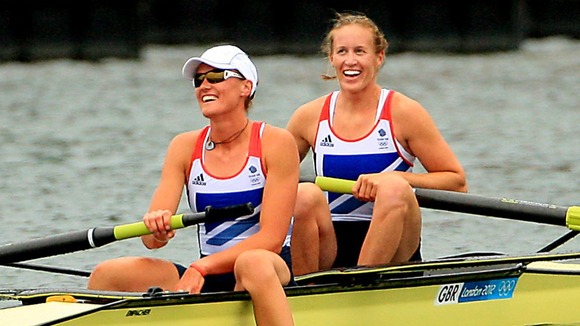 The achievement moved Great Britain up to 13 in the medals table.
Plaudits rolled in for Great Britain's "golden girls" from all quarters:
PM: "I couldn't be more delighted that Helen Glover and Heather Stanning have won the #1stgold medal for Team GB. Here's to many more"
Brilliant! First gold of the Games, awesome job.
Let the gold rush begin! Wonderful win for @teamgb Helen Glover & Heather Stanning. Where were the Aussies? :) PROUD! #OurGreatestTeam
The enormity of their achievement is underlined by the fact that both women only started rowing around four years ago.
26-year-old Helen Glover is a former PE teacher from Penzance in Cornwall. She started rowing through the Sporting Giants scheme, which was set up by UK Sport to identify British sporting talent.
27-year-old Heather Stannin from Lossiemouth, Moray in Scotland is a captain in the Royal Artillery.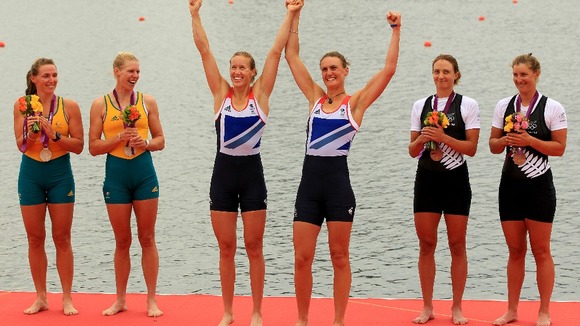 Family, friends and colleagues of Britain's first gold medallists of the 2012 Games have spoken of their pride in the Olympic champions.
I'm delighted she's been able to show everybody just how good she is. That was absolutely unbelievable.

Those girls have been absolutely fantastic since they made the British squad, they've hardly put a foot wrong.

Here we find them going for Britain's first ever women's rowing medal, the first (British gold) medal of an Olympic Games - the pressure of that's huge.

We're talking about two girls who have not been here before, so to go out there and deliver like that, for me, it's a piece a sporting history, absolutely amazing.
– Glover's boyfriend, fitness coach Paddy Hagben

Glover's mother Rachel added: "It's been a very meteoric, rapid rise and a fast learning curve both for her and for us. We're still trying to get to grips with all the ins and outs of rowing."

Glover's father Jim said the pair "deserve the success they've got", saying he was relieved when they crossed the line first.

"She is very much a newcomer, she's still a novice at rowing."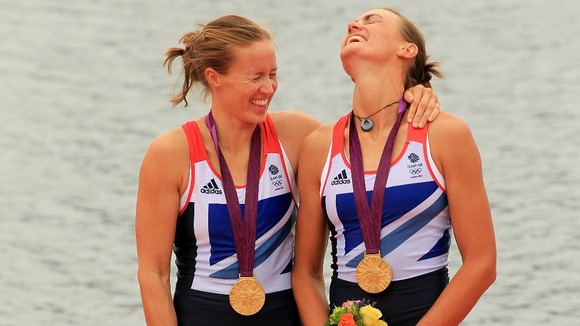 It is fantastic that Heather and Helen have won Olympic Gold today. It is a magnificent result and a testament to their hard work over the last few years.

The Army has been very proud to support Heather in her preparations to London 2012, and I have no doubt that soldiers across the globe will be sharing in her success today.
– Commander land forces General Sir Nick Parker
We are delighted with Heather's win today. I wish to congratulate Heather and Helen on their success; it was an excellent achievement.

Soldiers from 32nd Regiment Royal Artillery were thrilled to watch the race from their bases in Afghanistan, while their friends and families watched it here in the UK.

I am sure that they have been inspired by her performance and we look forward to welcoming her back to the regiment later this year. I know that she is keen to deploy with her soldiers to Helmand in 2013.
– Commanding officer, Lieutenant Colonel Craig Palmer of the Royal Artillery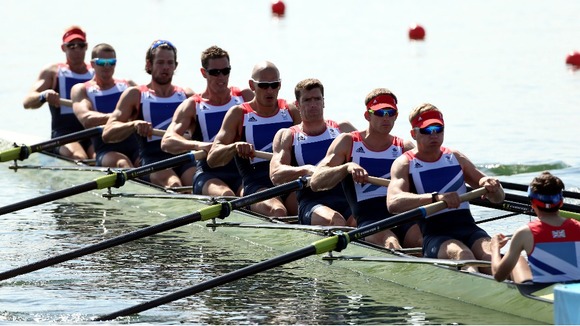 Great Britain's men's team also won a bronze medal in the eights rowing event, narrowly losing out to Germany and Canada.
Greg Searle, who came out of retirement to row in the London 2012 Games and already has two Olympic gold medals to his name, said his "dream didn't come completely true".
The British women's quad of Melanie Wilson, Debbie Flood, Frances Houghton and Beth Rodford finished sixth in the final of the women's quad rowing.