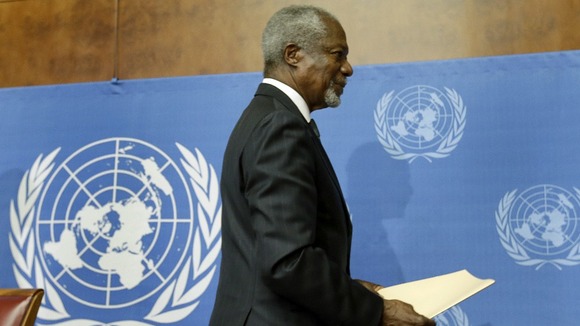 Kofi Annan has submitted his resignation as special envoy to Syria, saying he will step down on August 31.
Mr Annan delivered a blistering criticism of the world powers failure to unite for peace in the country.
He said he accepted the role when it seemed that the international community would be led by the UN Security Council to help end the violence and enact his six point plan to bring peace and political transition, but that he cannot continue when the council provides him with no backing.
Annan has previously expressed his frustration and impatience with the Syrian government, but today he said the international community had "compounded" the violence, and made his position impossible.
The increasing militarization on the ground and the clear lack of unity in the Security Council, have fundamentally changed the circumstances for the effective exercise of my role
– Kofi Annan

His six-point peace plan was supposedly agreed by the Security Council, the Syrian rebels and the regime of President Assad, but both sides ignored it, and the only action taken by the UN was to send monitors, who reported on massacres and the escalating bloody civil war.
As an envoy, I can't want peace more than the protagonists, more than Security council or the international community, for that matter
– Kofi Annan

The UN Security Council's five permanent members are bitterly divided. America, Britain and France want Assad to step down, but Russia and China are continuing to shield the regime, vetoing draft resolutions. Annan did not mince his words.

Russia says it "regrets" Annan's decision. UN Ambassador Vitaly Churkin said:
We understand that it's his decision. We regret that he chose to do so. We have supported very strongly Kofi Annan's efforts. He has another month to go, and I hope this month is going to be used as effectively as possible under these very difficult circumstances.
The White House said Annan's decision highlights Assad's failure to meet his promises, and stressed it continues to believe "Assad must go." UN Secretary General Ban Ki-Moon said Annan deserves admiration for contributing to the "potentially thankless assignments."
Kofi Annan deserves our profound admiration for the selfless way in which he has put his formidable skills and prestige to this most difficult and potentially thankless of assignments
In an editoral published on the Financial Times' website, Annan said Russia, China and Iran "must take concerted efforts to persuade Syria's leadership to change course and embrace a political transition."
Talks are underway to find a successor.