Man drives caravan into neighbour's swimming pool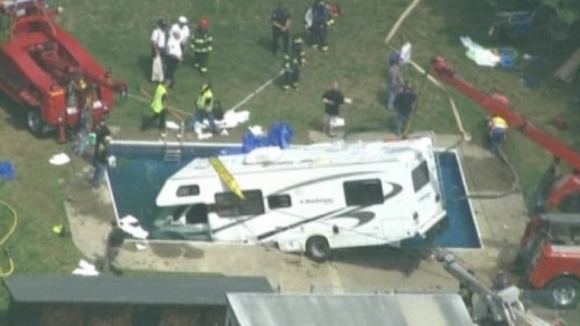 An American man was trying to reverse his caravan into the driveway of his home in Brockton, Massachusetts on Wednesday when something went wrong.
Seconds later the 30-foot vehicle was lying nose-down in his neighbour's swimming pool, the cabin filling with water.
The neighbour, Norman Little, was walking into his garden just as the caravan came careering through the fence. He was able to pull the driver, Stephen Pierro, out of the water and to safety.
Mr Pierro said there had been a problem with the accelerator and that his foot had become stuck. Another possible explanation is that Mr Pierro, who is diabetic, may have had a medical lapse.
Emergency services and a crane arrived to lift the vehicle out of the pool, but not before draining the petrol tank to ensure there was no risk of explosion.
An eyewitness, Larry Lambert, was driving down the street when the caravan went out of control and he gave this account to NBC:
This camper just came flying out of the driveway in reverse and he crashed into the bushes of the house across the street. And the next thing I knew he put it in drive and came flying back across North Quincy again," Lambert said. "He went the whole length of his driveway, through his backyard, through a tree, through a fence, and into his neighbor's pool.
– Larry Lambert, eyewitness