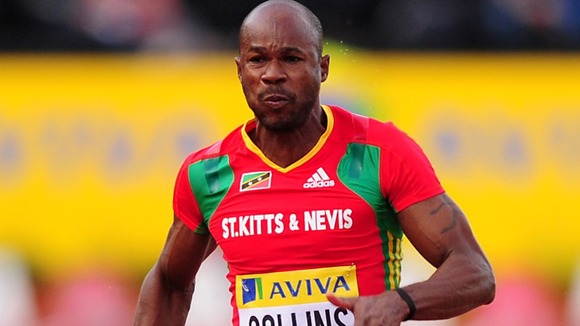 Veteran sprinter Kim Collins said he has been kicked out of London 2012 as punishment for visiting his wife at a hotel during the Games.
The St Kitts and Nevis Olympic federation confirmed it had sent the country's greatest ever athlete home for disciplinary reasons.
Collins, his nation's flag-bearer at the opening ceremony, hit out at the officials on Twitter as he confirmed he would not be making a fifth Olympic appearance in London.
This can't be right. Olympic number 5 and no Kim Collins.
Even men in prison get their wives to visit.
My fans. I won't lie. Won't be running later tonight @lo2012
St. Kitts and Nevis Olympic Committee confirmed in a statement that Collins would play no part in the team's sprint campaign.
Mr. Collins' departure is down to his repeated absences from training sessions and also for refusing to respond to repeated phone calls and emails by team manager and coaches.

Furthermore, Mr. Collins did not make an appearance for registration for his events at the Olympic Village (on Friday) as requested.
– St. Kitts and Nevis Olympic Committee statement

But Collins later said to the BBC that it was his visits to his wife that had seen him denied access to the Olympic Village:
They're asking me to abandon my wife for my team. It's not going to happen.

I'm not walking away. When I came to the Village I could not get into the Village. My pass, my accreditation, was cancelled. I'm not walking away, I've been pushed out.