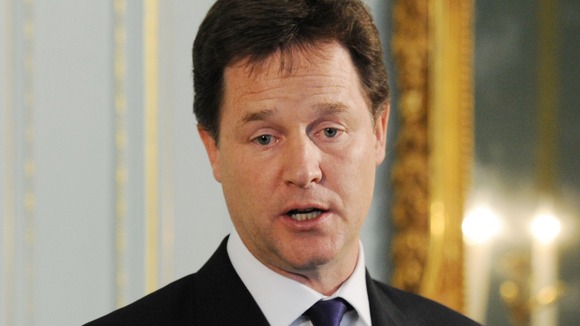 Deputy Prime Minister Nick Clegg announced today that plans to reform the House of Lords will be abandoned after the Conservatives had "broken the contract" between the coalition government partners.
Clegg told a news conference that Liberal Democrat MPs will in turn block plans made by the Conservatives to redraw the parliamentary boundaries.
The Lib Dem leader, addressing "modernisers and campaigners," said he was "disappointed" but added, "Lords reform has always been a case of two steps forward and one step back."
Clearly I cannot permit a situation where Conservative rebels can pick and choose the parts of the contract they like, while Liberal Democrat MPs are bound to the entire agreement.

Coalition works on mutual respect; it is a reciprocal arrangement, a two-way street. So I have told the prime minister that when, in due course, parliament votes on boundary changes for the 2015 election I will be instructing my party to oppose them.
– Deputy Prime Minister Nick Clegg

Report by ITV News' Political Correspondent Lucy Manning

Mr Clegg said he made the decision after Prime Minister David Cameron told him that an "insufficient number" of Conservative MPs were prepared to back Lords reform.

However, he insisted that the Lib Dems would carry on as a coalition member, calling his announcement "an amendment to the contract."
The thing I care about most - the central purpose of the Liberal Democrats in this Government - is to build a fairer society.

We will continue with that critical work. We will continue to anchor this government firmly in the centre ground.
– Mr Clegg on the coalition

Culture Secretary Jeremy Hunt said although Mr Clegg's decision was "disappointing," it would not change the parties' commitment to work together.
The really important thing about this coalition is that we came together to sort out the economic mess that we inherited from Labour.

There isn't a cigarette paper between us on that. That is what we are focused on getting the gold medal for. Nothing is going to change that focus.
– Jeremy Hunt's response

Shadow Justice Secretary Sadiq Khan called the deputy prime minister's announcement a "humiliation" for the government and a "spectacular failure" of leadership from David Cameron.

Humiliating day for Cameron & Clegg - coalition teeters, constitutional reform in tatters http://t.co/AbDiSSBA

Cameron's weakness - he can't get his own MPs to support coalition agreement

Clegg supported raft of rotten Tory policies in anticipation of their support for Lords reform - now left with nothing. Very naive

Simon Hughes, the Liberal Democrats' deputy leader, said although the Conservative MPs' decision not to back House of Lords reform was a "major failure", "life goes on" when it comes to the coalition.