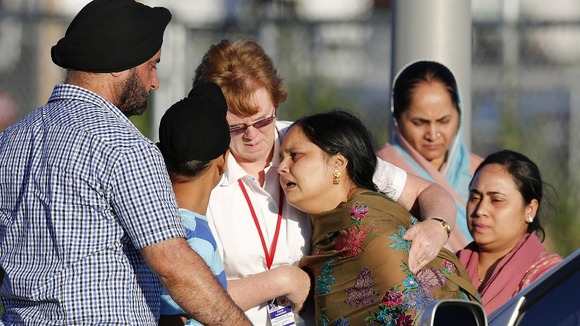 At least seven people, including a gunman, have been killed in a shooting incident at a Sikh temple in the US state of Wisconsin, police said.
The incident happened before services on Sunday and the attack is being treated as "domestic terrorism", according to Teresa Carlson, special agent in charge with the FBI's milwaukee division.
The gunman opened fire when he entered the kitchen at the Sikh temple as women were preparing a Sunday meal, Reuters reports.
Four people were shot dead inside the sprawling temple. Three, including the gunman, were killed outside.
ITV News' Neil Connery reports.
The gunman reportedly ambushed and shot a police officer several times when he responded to a 911 call and was helping a shooting victim, Oak Creek Police Chief John Edwards said.
Edwards had no identification of the gunman or what kind of weapon or weapons he had.
United States President Barack Obama had been told the situation at the temple was "under control" after the shooting.
He said he was "deeply saddened' by the attack.
At this difficult time, the people of Oak Creek must know that the American people have them in our thoughts and prayers, and our hearts go out to the families and friends of those who were killed and wounded.

As we mourn this loss which took place at a house of worship, we are reminded how much our country has been enriched by Sikhs, who are a part of our broader American family.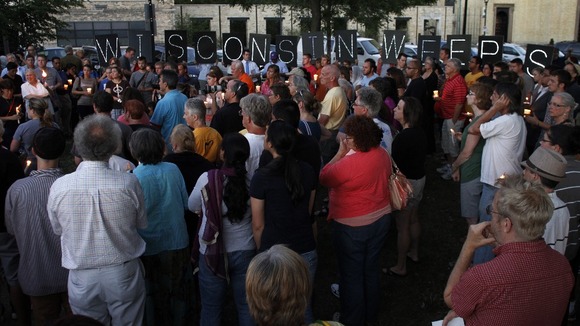 US presidential candidate Mitt Romsey added:
Our hearts are with the victims, their families, and the entire Oak Creek Sikh community.

We join Americans everywhere in mourning those who lost their lives and in prayer for healing in the difficult days ahead.