Pop legend Madonna, who is in Moscow ahead of a concert, has said that a jail sentence for the three women from the anti-Putin band Pussy Riot would be a tragedy.
Weighing into a debate surrounding the trial of Maria Alyokhina, 24, Nadezhda Tolokonnikova, 22, and Yekaterina Samutsevich, 29, Madonna added her voice to a number of other Western musicians, bolstering accusations by President Vladimir Putin's foes that the legal proceedings are politically motivated and a part of a wider crackdown on dissent.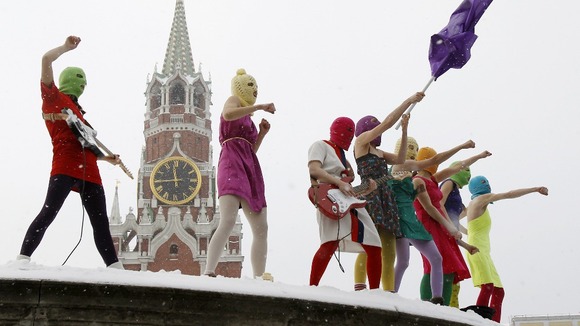 The trio are on trial for storming the altar of Moscow's Christ the Saviour Cathedral on 21st February and belting out a profanity-laced "punk prayer" calling on the Virgin Mary to rid Russia of Putin. Their stunt infuriated church leaders and the Kremlin. Madonna, however, spoke out against the proceedings, telling Reuters:
I'm against censorship, and (throughout) my whole career I've always promoted freedom of expression, freedom of speech. So obviously, I think what's happening to them (Pussy Riot) is unfair. And I hope that they do not have to serve seven years in jail, that would be a tragedy.

I think art should be political. I think art through history, historically speaking, art always reflects what's going on socially. So for me it's hard to separate the idea of being an artist and being political.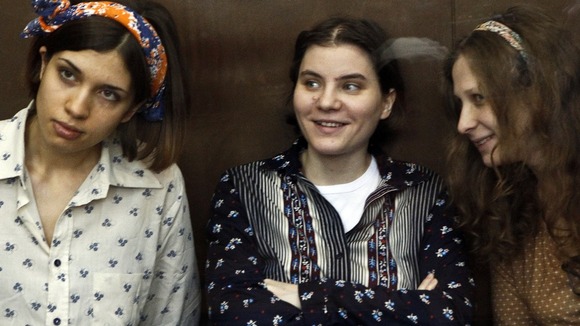 Madonna joins a number of Western governments, human rights groups and performers such as the Red Hot Chili Peppers who have criticised the prosecution of the women.
Labour MP Kerry McCarthy has been in court for the Pussy Riot trial and tweeting the proceedings as they happen:
Women brought to court at 8am, 2 hours before start, and with long journey from prison. They say they're getting 2-3 hours sleep. #pussyriot
Women brought back into court in handcuffs, put inside glass box. Grabbing chance to have chat with lawyers as court fills up #pussyriot
Court ended 9.30pm with women making a last plea to be allowed to call defence witnesses. Judge said you've had plenty of time to do that...
But when they tried to call witnesses before, and actually had them at the court, the judge wouldn't allow them to be called... #pussyriot
Trial has a late start tomorrow, at midday. Will be there for some of it, but then back to UK. Verdict possible later this week. #pussyriot