Video: Fisherman surrounded by sharks rescued off Australian coast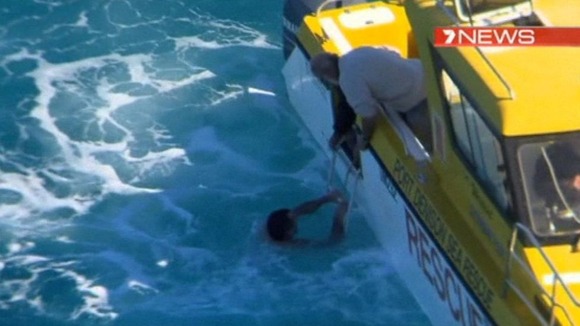 An Australian TV news helicopter helped in the rescue of a naked fisherman as it chased away sharks circling him, after his boat capsized.
The missing fisherman, who was believed to have been in the water for 24-hours, was spotted by the Channel Seven news crew as a hammerhead shark swam close by.
The 49-year-old man was one of three men who went missing on a fishing trip off the coast of Leeman - 200 miles north of Perth.
Australian police say one of two men pulled out from the water had died, while the third man remains missing.
Here is the moment the fisherman was rescued:
In a live cross feed to a radio channel in Perth, the Channel Seven News reporter Grant Taylor described the moment they found the man:
We've actually just found one of these three fishermen in the water on his own.I'm looking at him right now - stark naked in the water - but we're trying to keep sharks away from him.

We've just spotted a massive hammerhead shark that is just circling around him, probably about 20 metres from him, but we're trying to use the chopper to drive that shark away.

He's just desperately in the water, trying to keep his head above water - he's making a prayer sign looking up at the aircraft, looking up at us. It's so frustrating because we can't actually help him ourselves.
It is believed two of the men are brothers in their 20's and the third is their uncle, aged 49.