Pilot's-eye-view of lucky escape from mountain crash
The survivors of a plane crash can prove just how close they came to death, with a video documenting their harrowing experience.
Nathan Williams was filming when the small plane took off from a dirt runway headed toward the mountain resort town of McCall. His video shows the plane flying for several minutes before losing altitude and slamming into the trees below, with the pilot suffering serious injuries.
It wasn't anything we were trying to film. It was a beautiful day and we were just really having fun recording what we were doing.
– Nathan Williams

Williams suffered a concussion in the plane crash and said the pilot, Les Gropp, 70, had a broken jaw, broken ribs and a fractured cheekbone. The two other passengers, Alec Arhets and Gropp's son, Tol, escaped with cuts and bruises, Williams said.

"We all went back to work on Monday," said Williams, a dentist. "Les was really the only one who had some lasting damage, but even he's going to be fine."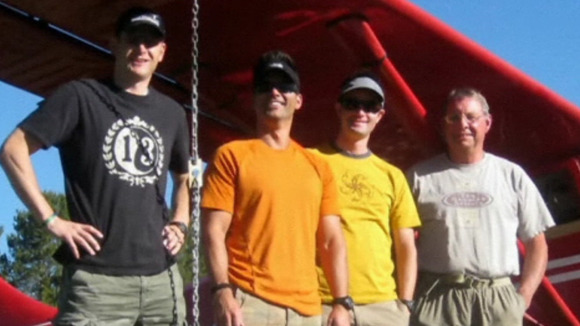 The group flew into the Frank Church River of No Return Wilderness so they could go hiking, Williams said. After the hike, they were headed to McCall for dinner.
After almost 3 minutes of footage, the video shows the plane start to lower and then crash. The camera is then blocked by the wreckage and shows a mostly black screen as one of the men is heard moaning and another asks: "Everybody OK?"
As the plane started hitting the trees, I just told myself to just go limp and relax - and so I did.

I had expected to see the life flashing before my eyes, but instead I kinda had an instant calm feeling that things were going to be ok.

You just feel blessed, you feel like there's ya know, God's hand at play.
– Alec Arhets

The men suspect the plane had a difficult time gaining altitude because of warming temperatures and that after the Stinson 108-3 took off, it hit an air pocket that made it rapidly loose altitude, pushing it down into the trees. Williams posted the video to show friends and family what happened and he was surprised to see the video elicit so much response.

But he also understands why people are intrigued:
You see how fast something happens, something that's life-threatening," he said. That's kind of people's worst fears and it kind of came true for us, in a way.
– Nathan Williams