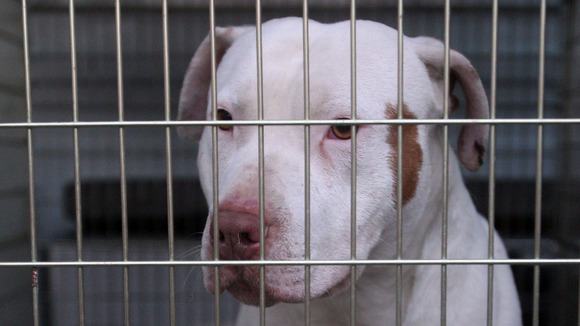 From today, owners can be imprisoned for up to 18 months, fined up to £5,000, and banned from keeping dogs for life, while the dogs can be destroyed or ordered to be muzzled or neutered.
Sentences for people who allow a dangerous dog to injure someone:
The offence will now have a starting point of six months in jail
Where appropriate, judges will be encouraged to consider up to 18 months
The top of the sentencing range for possession of a prohibited dog has been set at six months custody
List of prohibited dogs include:
Dogo Argentino and Fila Brasileiro
ITV News' Tom Barton reports.
Chairman of the Magistrates Association Sentencing Committee, Peter Chapman is welcoming the new guidelines. He says The Sentencing Council has listened and responded to many of its members' concerns about sentencing cases involving dangerous dogs.
''For the first time, magistrates will have all they need in one document to help them sentence the offender, disqualify them from future dog ownership if appropriate, order compensation to the victim and order destruction of the dog if necessary''
– Peter Chapman, Magistrates Assoc Sentencing Committee Chairman

Animal Welfare Minister Lord Taylor says we've seen tragic instances of attacks by dangerous dogs, and irresponsible dog ownership has a serious impact on many of our communities. He says the clampdown sends a clear message that dog owners are responsible for keeping their animals under control.
"We are determined to crack down on people who fail to keep their dogs under control, and earlier this year we consulted on measures to do this including extending the dangerous dogs laws so they cover private property''
– Animal Welfare Minister Lord Taylor

Extent of dog attacks
More than 200,000 people each report being attacked by a dog
Of those nearly 6,000 require hospital treatment
Dog attacks cost the NHS close to 3.3 million pounds a year
Ryan O'Meera, Editor of K9 magazine, says he doesn't have a problem with tougher sentencing but feels it won't have any affect on reducing the number of dog attacks. He says what we're currently seeing is the Government skirting around the issue, rather than solving the bigger problem.
Dangerous Dogs Act Watch spokeswoman Alison Green warns that tougher sentencing alone isn't enough to prevent dog attacks:
Steve Goody, director of external affairs at animal welfare charity Blue Cross, says tougher sentencing alone isn't enough to prevent dog attacks.
"The campaign to reform the current Dangerous Dogs Act has been dragging on for some 20 years now"
"We feel that there is an urgent need for preventative action, or dog attacks will continue to increase''
"We believe the introduction of useful, practical measures could be used specifically to target irresponsible dog owners before an attack happens"
– Steve Goody, Director of external affairs at Blue Cross