A five-year-old British girl and her grandfather have drowned off a Portuguese beach after being dragged into the sea by waves. The victims have been named locally as Lara Lewis and Brian O'Dwyer.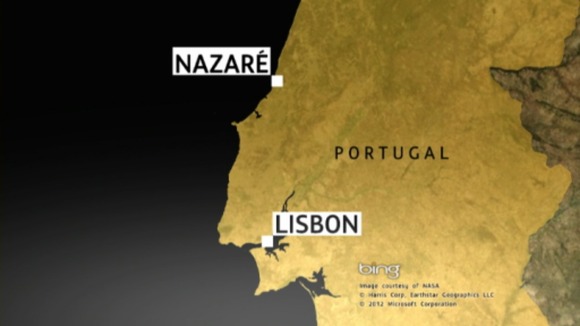 Local authorities say their bodies were pulled from rough seas by fishermen in the tourist resort of Nazare, around 60 miles north of Lisbon.
The girl's grandmother was rescued from Salgado beach and is being treated in hospital.
ITV News' correspondent Nina Nannar reports:
It is reported her parents were on the beach at the time, just before 2pm local time on Tuesday.
The grandfather was already dead when he was hauled from the water. Emergency services attempted to resuscitate the child, but to no avail. The two victims, accompanied by the grandmother, went on a stroll away from the Salgado beach, which is under lifeguard surveillance, and it must have been during this period that they were knocked over and dragged in by the waves.
– Albuquerque e Silva, Nazare Port Authority Commander

The grandparents are understood to have taken their granddaughter for a walk along the shore while the girl's parents sunbathed. But they strayed outside the area patrolled by lifeguards.

Pictures of the scene showed firefighters crouched down in the sand about to move the victims. The body of the grandfather was covered in a blue sheet. It is thought the emergency services attempted to revive the girl for nearly an hour.

Portuguese journalist Rui Pinto de Almeida said Salgado beach, Nazare, "usually attracts surfers" due to "the strong waves". Hear his account below (this video is sound only):

The Foreign Office warns holiday-makers on its website to take care on Portugal's beaches, and to obey the warnings of lifeguards. It says:
Death by drowning occurs every year on Portuguese beaches and in swimming pools. The Maritime Police have the authority to fine bathers who disobey the lifeguard's warning flags.