The Sun has published naked photos of Prince Harry despite a request by St James's Palace via the Press Complaints Commission not to.
Almost half of the front page of Friday's edition shows one of the photographs of the naked Prince in a hotel room in Las Vegas where he was on holiday.
ITV News' UK Editor Keir Simmons reports:
A Royal source told ITV News: "Prince Harry was letting off steam over the weekend before he returns to the next phase of his military duties".
In today's edition, it published a mock-up with one of its own reporters, also called Harry, posing naked in the Prince's place.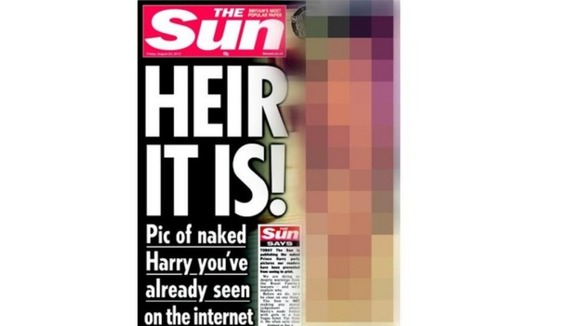 The Sun's managing editor David Dinsmore said that the newspaper's editorial team thought "long and hard" about whether to print the pictures, and had reached the decision that it was a matter of press freedom.
In a video posted to The Sun's website he said:
We've thought long and hard about this. The Sun is a responsible paper and it works closely with the Royal family. We take heed of their wishes.

We're also big fans of Prince Harry, he does a huge amount of work for this country and for the military and for the image of both of those institutions.

We are not against him letting his hair down once in a while. For us this is about the freedom of the Press.

This is about the ludicrous situation where a picture can be seen by hundreds of millions of people around the world on the internet, but can't be seen in the nation's favourite paper read by 8 million people every day.
– DAVID DINSMORE, MANAGING EDITOR, THE SUN

A spokesman for St James's Palace responded to The Sun's decision saying:
We have made our views on Prince Harry's privacy known. Newspapers regulate themselves, so the publication of the photographs is ultimately a decision for editors to make.
– St James's Palace spokesman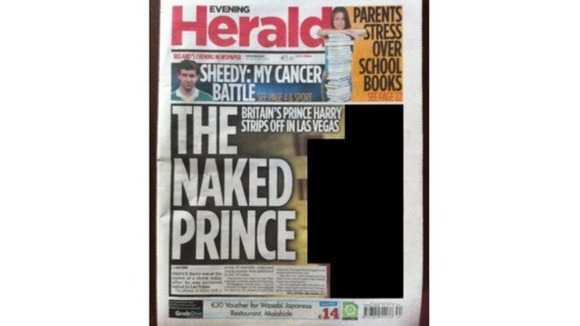 The photos first emerged on the US celebrity gossip website TMZ and quickly spread throughout the American media. They are widely available on the internet.
But St James's Palace acted quickly to dissuade UK media organisations from using the pictures by contacting the Press Complaints Commission.
The Evening Herald, which is printed in Dublin in Ireland, is the only newspaper that decided to publish the photos today.