Baby panda 'squawks' at vets during first examination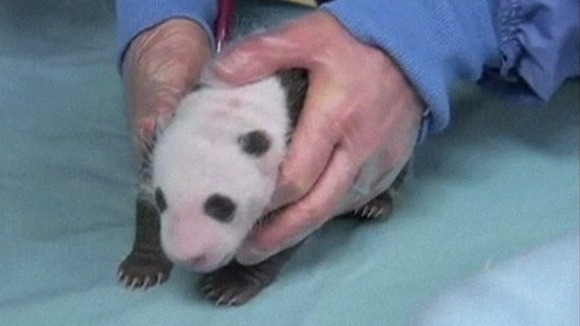 Vets at San Diego Zoo in California were in for a shock when they picked up a 25-day-old panda cub for its first medical examination.
Surprised at being touched by human hands, the young cub let out a loud 'squawk' - a sign of vigour as far as the vets are concerned.
The new arrival, who was born on July 29, is the sixth cub to be born to San Diego's giant panda Bai Yun.
The zoo reported that it is a healthy weight and has a strong heart, good demeanor and strong lungs!
Panda mothers tend to spend their first few weeks nursing their infant without eating or leaving the den.
Vets at the zoo had been eagerly awaiting their first opportunity to examine the youngster, but had to wait until its mother Bai Yun felt confident enough to leave the den for longer periods of time.
On August 20, they reported ion the San Diegio Zoo panda blog:
Giant panda Bai Yun has continued to lengthen her absences from the den ... For much of the time Bai Yun is out, the youngster will rest in the den or move about gently on the floor, croaking quietly. No more flailing and screaming while Momma is away.
– Suzanne Hall, senior research technician, San Diego Zoo Institute for Conservation Research

San Diego Zoo has a live 'Panda Cam' on its website where you can watch the zoo's two giant pandas, Bai Yun and Shi Shi, in their enclosure.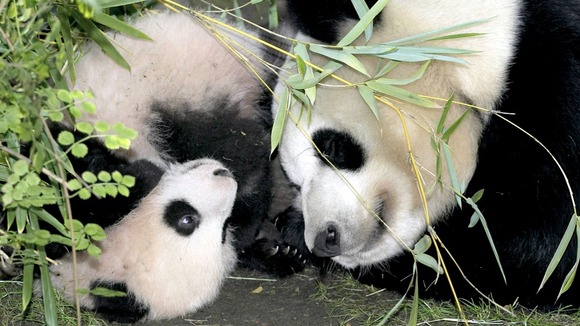 On Thursday, they were finally able to take advantage of Bai Yun's breakfast outing to get a first real look. The examination only last three minutes, but they were able to weigh the cub and check its limbs, mouth and ears.
It will be another few weeks before they know the cub's gender and whether or not it has webbed toes or a spot on its tail.
As soon as the cub made its loud squawk, Bai Yun apparently looked up from her breakfast and started returning to the den so the vets had to return her cub quickly.