Curious koala hitches a ride in a canoe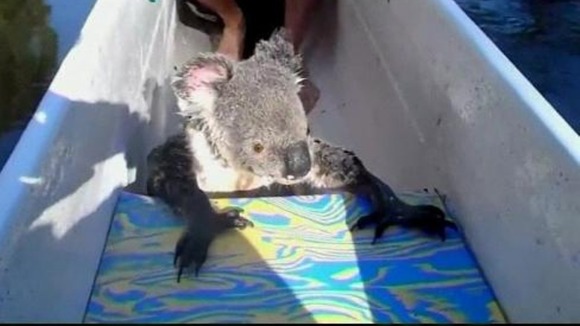 A curious koala surprised a group of canoeists in Australia's Gold Coast by swimming across a river towards their canoe and hitching a ride with them.
Koalas are not known for their swimming skills, but amateur footage showed the animal swimming toward the group in Tallebudgera Creek and being lifted into the canoe.
The marsupial is known to sleep for up to 16 hours a day and although they can swim, they normally prefer not to.
It is possible that the koala felt trapped on the bank of the tidal creek, and saw that its only escape may be via the canoe.
Julie Elliot, the woman filming the gliding koala said that she had "never seen anything like it before", according to the Daily Mail.
Of course we couldn't sail away down the creek with him because we'd be taking him out of its environment.

I've been paddling along that particular creek for the best part of 10 years and never seen anything like a swimming koala before [...] It turned out well for him and for all of us in the canoes – he really made our day.
Local media said that the canoeists took the marsupial along the bank to some gum trees where other koalas are known to live.