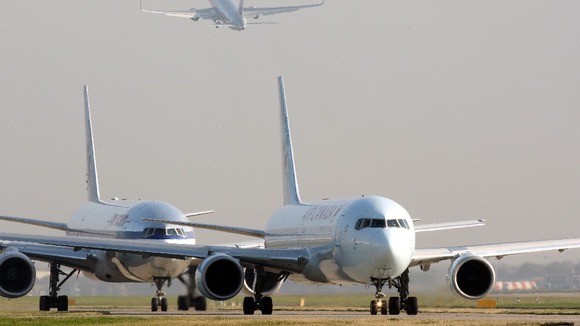 The Coalition will keep its pledge not to build a third runway at Heathrow Airport despite renewed pressure from MPs and business leaders to approve the expansion, Downing Street said.
Senior Conservative Tim Yeo launched a stinging attack on the Prime Minister in the Daily Telegraph where he said the Prime Minister must decide whether he is a "man or a mouse" and drop his objection to building the third runway.
The Prime Minister must ask himself whether he is man or mouse. Does he want to be another Harold Macmillan, presiding over a dignified slide towards insignificance?

Or is there somewhere inside his heart - an organ that still remains impenetrable to most Britons - a trace of Thatcher, determined to reverse the direction of our ship?

An immediate go-ahead for a third runway will symbolise the start of a new era, the moment the Cameron government found its sense of mission. Let's go for it.
Political Correspondent Libby Wiener has the full report:
The call for a third runway comes after Housing Minister Grant Shapps warned that the expansion was needed to ensure the UK remained a "great trading nation".
Mr Yeo insists that environmental objections to controversial calls for a third runway are disappearing and claimed backing the move would give the Government a "sense of mission".
In an interview with ITV News, Mr Yeo said he thought the Prime Minister would prove that he is a "man, not a mouse" over the issue.
However, Downing Street has since said the Coalition would stick by its commitment that there would not be a third runway.
The Coalition parties have made a pledge not to have a third runway and that is a pledge that we will keep. We don't see the argument for a third runway.
– Number 10 spokeswoman

Transport Secretary Justine Greening admitted she would find it "difficult" to remain in a Government which backed a third runway at the airport.

She is a prominent campaigner against a third runway which she fears would directly affect the quality of life of her constituents in Putney, south-west London.

Asked on the BBC Radio 4 Today programme whether she could continue to serve in government if a third runway was approved, she said: "I think it would be difficult for me to do that. But I think, at the end of the day, the process I'm about to kick off is one that will see us come up with a much better, longer-term, solution."