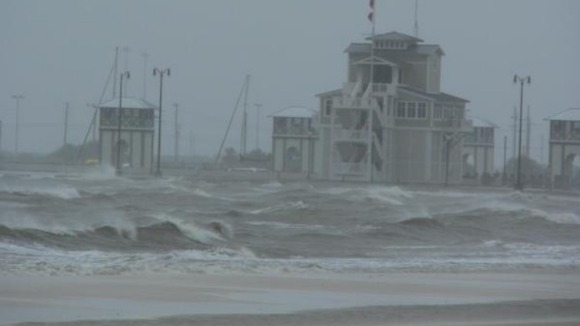 Up to 70% of people in New Orleans have been left without power as Hurricane Isaac passes over and travels up Louisiana, seven years to the day after Katrina hit the coast.
Hurricane Isaac drove water over the top of a levee on the outskirts of New Orleans on triggering life-threatening flooding.
Emergency management officials in low-lying Plaquemines Parish reported the overtopping of the 8 or 9 foot (2.4 or 2.7 metre) high levee between the Braithwaite and White Ditch districts southeast of New Orleans.
Plaquemines Parish President Billy Nungesser said about 2,000 residents of the area had been ordered to evacuate but only about half were confirmed to have gotten out before Isaac brought driving winds and rain beginning late on Tuesday.
He told CNN:
On the east bank right now, we have reports of people on their roofs and attics and 12 to 14 foot (3.6-4.2 meters) of water (in their homes)
Earlier Hurricane Isaac had hit southeast Louisiana with top winds of 80mph.
The slow-moving category 1 hurricane hit at land around 6.45pm local time, in Plaquemines Parish, ninety miles southeast of New Orleans.
The International Space Station released pictures of Hurricane Isaac as seen from space:
The Mayor of New Orleans Mitch Landrieu said he was confident the levees would hold, and urged residents who had not evacuated to "hunker down".
29,000 police officers are on the streets of the city, and there have been no reports of looting.
In a press conference just after the hurricane struck he said the city was prepared, but the situation could change overnight.
We must be prepared and we are prepared to change with the storm. There is no evidence of any overtopping canals. We have full confidence the levees will hold.That does not mean there is not going to be significant flooding, but we are prepared to respond to that.
The US Weather channel said that almost 130,000 homes are without power because of the storm:
Meteorologists at the Weather Channel said the storm is struggling to gather pace, and is slower than predicted, but warned that the centre of the storm is fluctuating and this can make it more unpredictable:
Center of #Isaac clearly jogging due west now. Dr Jeff Masters says it's a "colloidal wobble" - overall motion still NW.
BREAKING: Hurricane #Isaac made landfall at 6:45pm CDT in Plaquemines Parish, LA, just SW of the mouth of the Mississippi River.
It appears to us that the center of #Isaac has since wobbled to the west back over water, so that is unlikely to be the final landfall.
Meanwhile residents are "hunkering down" whilst the storm passes. They are not expecting the storm to be anything near the scale of Katrina, and they are confident the levees will hold.