Headteachers may launch a legal challenge over the grading of GCSE English after the exam regulator said this summer's results would not be re-graded.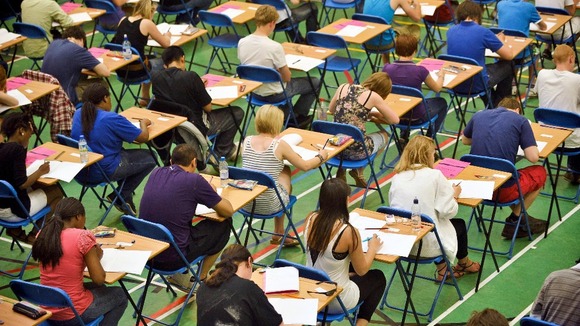 Ofqual has released its initial report into this summer's English results.
While it found grade boundaries were higher in June than they were in January it said examiners had acted properly and set them using their best judgement.
The June boundaries have been properly set, and candidates' work properly graded. The issue is not the June, but the January boundaries. Again, examiners used their best judgement in setting these boundaries, but they had less data and information to work with. Most candidates were not sitting at the time, they were waiting for June, and because they were new qualifications, examiners could not rely so much on direct comparisons with the past. As a result, those grade boundaries were set generously. We have thought carefully about what should be done, and spoken with external assessment experts about it. Our job is to maintain standards over time, so grades awarded are comparable from one year to the next.
– Glenys Stacey, Chief Regulator OFQUAL

Because of the strength of feeling over the June results the regulator also confirmed it would allow students to be given an extra chance to re-sit.
We will now go through our analysis and evidence with the representative groups for schools and colleges, so they can see it for themselves. We will also talk with schools, exam boards and assessment experts to see what lessons can be learnt and what can be done better in the future.
– GLENYS STACEY, CHIEF REGULATOR OFQUAL

A leading headmistress said a "major rethink" of the qualification's content and structure is needed, adding that exams have become too accessible, with too many modules and structured questions.

Bernice McCabe, of the North London Collegiate School - which came second in a new league table of private schools' GCSE results - said:
Increasingly, the GCSE is insufficiently rigorous, although it does depend on the subject.There does need to be a major re-think of the content of syllabuses and structure of the questions..I think where we've moved too much over the last few years is making exams too accessible, breaking down exams too much into modules, too much of an emphasis on structured questions.

Exams should focus on rigorous interesting content.
Shadow Education Secretary Stephen Twigg says the Ofqual report fails to deal with the "basic unfairness" and the offer of early re-sits "doesn't go far enough".
Hugely disappointed but as expected grade boundaries remain the same. Onward and upward. Commiserations to all involved in GCSE teaching.
No English teacher or student can approach GCSE English this year with any confidence whatsoever. I have NO IDEA what to tell my students.
This is a summary of what the regulator has agreed:
Revisiting the June grade boundaries would contradict our responsibility to maintain standards over time and make sure results are comparable year-on-year
It would not be appropriate to revisit the January grade boundaries. That would mean lowering the grades of other students which would lead to further concerns over unfairness
Each of the exam boards offering GCSE English and English Language will provide an exceptional, one off resit opportunity in November 2012
Exam boards will review the advice and guidance they give to schools about GCSE English including its structure, how grade boundaries are set and how they should be used
School and colleges who have submitted an Enquiry About Result (EAR) for a candidate due to concerns over grade boundaries can withdraw this and incur no cost if they no longer wish to pursue it. EARs do not look at grade boundaries
The Association of School and College Leaders says it is weighing up its legal options after Ofqual's decision.
We would much prefer to solve this through other means. What we are seeking to do here is get justice for young people who have been badly affected by systemic failures that are not of their making. There has been no failing in terms of teaching... It is wholly unacceptable to leave the students and their teachers to pick up the pieces of a problem they did not cause.
– Brian Lightman, General secretary

Timeline of the GCSE English grades row
2010: New GCSE English syllabuses introduced with pupils sitting an exam and submitting two pieces of coursework, under classroom supervision.
January 2012: First students begin English GCSE.
June: Majority of students complete qualification.
23 August: Students in England, Wales and Northern Ireland receive their GCSEs. Proportion of GCSEs awarded at least a C falls for first time ever.
24 August: Head teachers urge Michael Gove to conduct an inquiry into this year's GCSEs.
25 August: Exams regular Ofqual says it'll look at grades again.
28 August: Association of School and College Leaders calls for students marked down in June to have grades reissued.
31 August: Ofqual publishes report saying that January's GCSE English exams were "graded generously" and that June boundaries were properly set and candidates' work properly graded.