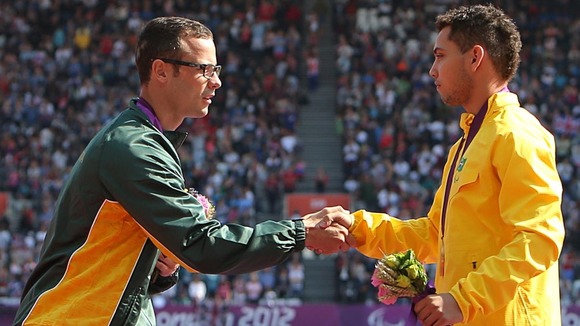 South Africa's Oscar Pistorius has said sorry for the timing of his comments about the length of blades used by Alan Fonteles Oliveira who beat him to gold in the T44 200 metres.
Pistorius made the comments immediately after the race last night.
But he admitted this morning he should never have not have detracted from "another athlete's moment of triumph".
I would never want to detract from another athlete's moment of triumph and I want to apologise for the timing of my comments after yesterday's race. I do believe that there is an issue here and I welcome the opportunity to discuss with the IPC [International Paralympic Committee] but I accept that raising these concerns immediately as I stepped off the track was wrong. That was Alan's moment and I would like to put on record the respect I have for him. I am a proud Paralympian and believe in the fairness of sport. I am happy to work with the IPC who obviously share these aims.
– OSCAR PISTORIUS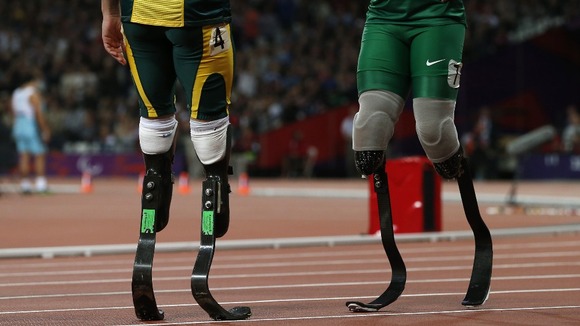 The length of running blades used by athletes for the Paralympics is worked out using a complex formula based on the proportions of the body. But Pistorius also competes in the able-bodied competition and if he changes the length of blades he could breach the rules and unable to take part.
Craig Spence from the International Paralympic Committee explained to Alastair Stewart that he would have to keep the same blades to compete in both.
After the race the International Paralympic Committee tweeted a photo which show the maximum heights allowed for individual athletes. They show Oscar Pistorius at a height of 193.5cm and Alan Fonteles Oliveira at 185.4cm.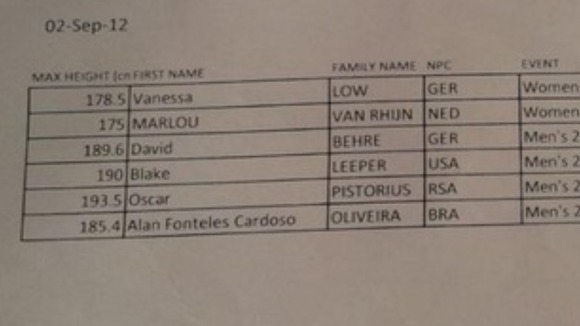 Thank you for the support tonight. I'm pleased with the race I ran. I am disapointed not to have defended my title. Well done to Alan.
The Brazilian hit back at Pistorius on Sunday night, suggesting he was trying to deflect attention away from his defeat.
He is not a bad loser, he is a great athlete. I am just sad with the interview where he said my blades were too big. He was bothered by my time in the semi-finals and he wanted to get to me with his polemic but it did not work.For me he is a really great idol and to hear that from a great idol is difficult.
– Alan Fonteles Oliveira

The pair are on course to go head to head again in the finals of the 100m and 400m on Thursday and Saturday respectively.