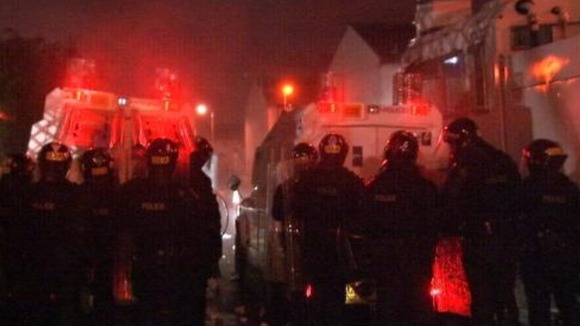 Police in Northern Ireland are appealing to politicians to find a solution to the ongoing parading issues across North Belfast as fifteen officers were injured in a second night of serious disorder last night.
Three officers were treated in hospital after enduring another night of being pelted with petrol bombs, rocks, fireworks and bottles. Rioters, believed to be mainly loyalist, hijacked a van and set it on fire on Denmark street before pushing it towards police lines. The extent of the injuries sustained by the police officers taken to hospital is not yet known.
Assistant Chief Constable Will Kerr said political activity needed to be "speeded up" before someone gets killed.
We need an urgent resolution to this issue, or there is a very real possibility that somebody will get killed over this issue in the next few days and weeks.

The community of North Belfast needs to see a resolution to this issue now.

Collectively, we cannot afford to wait and we cannot have night after night of violence on our streets. Following two nights of disorder, we have a number of police officers who are no longer available to deliver their core policing duties, protecting the communities they serve.
ITV News Reporter Martin Geissler reports:
Last night's disorder came after 47 Police Service of Northern Ireland (PSNI) officers were injured on Sunday night during riots linked to a republican parade nearby and a loyalist protest. Nigel Dodds, the MP for North Belfast, said there has been progress made:
There were very constructive talks prior to the Twelfth and between community groups as well and all of that must continue. People don't need to be lectured about what to do, people are doing this work on the ground and we need to make it succeed.
Sinn Fein's Gerry Kelly said the Orange Order must come out and condemn the violence, and answer some "hard questions." Alban Maginness of the SDLP said it was clear loyalist paramilitaries were involved:
There's nothing spontaneous in this rioting, it's an organised and sustained demonstration by paramilitaries of their street power in the Lower Shankill area, there's no doubt of that in my mind.
Constable Kerr said he needed community leaders to help quell the violence:
We have no evidence that the UVF officially sanctioned or orchestrated the violence over the past couple of nights but you cannot have violence take place in those areas and not have members of loyalist paramilitary groups involved.

Undoubtedly there were people from those groups involved in the disorder but equally there were people from those groups trying to quell and restore order.
Six baton rounds were fired at the crowd and water cannon was used. The chairman of the Northern Ireland Affairs Committee of MPs, Laurence Robertson, paid tribute to police officers involved and sent his sympathies to those injured.
There can be no excuse for the violence which we have witnessed in North Belfast over the last two nights. Huge strides forward have been made in the province over the last ten years and there is no place for this kind of activity. Nor is there a place for any kind of paramilitary activity or sectarianism.