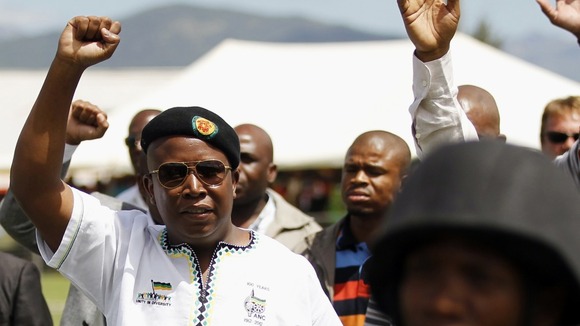 The expelled African National Congress youth leader president Julius Malema has been accused of exploting the Marikana miners' plight to stage a political comeback.
The controversial politician, who visited the mine again yesterday, used a recent memorial service for the 34 Lonmin miners killed in Marikana, North West South Africa, to attack the government.
Africa Correspondent Rohit Kachroo went to meet him.
Malema said the tragedy was a direct result of President Zuma and his administrations' failure to address dire pay and conditions in the mines, and has called for him to resign.
He has been travelling around mines across South Africa bolstering his popularity. He said:
We are going to lead a mining revolution in this country... We will run these mines ungovernable until the boers come to the table.
On Monday four miners were shot and injured during public violence at a mine in Aurora.
Malema told ITV News it is time mine owners met the demands of the miners.
He said the killing of 34 miners in Marikana was an example of state brutality enforcing social inequality - which he claims is actually worse for poor black South Africans than it was under apartheid.
Malema said the mining strikes would continue until conditions improved:
It if is met with violence, they will never kill us all.

We will continue the strike. It is something we are prepared to die for.

Violence comes with government and the government has been very violent under President Zuma.

It is a violent government, it is a murderous government.