Former world number one Andy Roddick retires from tennis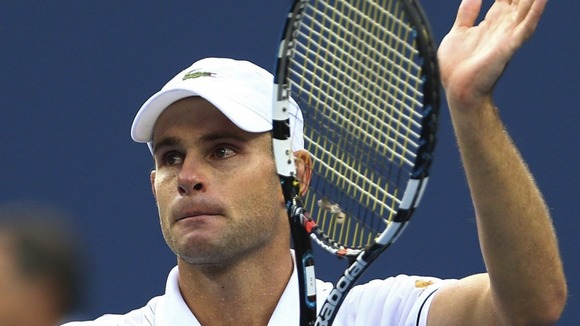 Andy Roddick's career was brought to a close tonight with defeat by Juan Martin Del Potro in the fourth round of the US Open.
It was fitting that the American's final moments in tennis should be played out on Arthur Ashe Stadium, the court where he enjoyed his biggest success when he won the title in 2003.
The match had begun yesterday before rain interrupted and for a while he looked like he might extend his career in glorious fashion with victory over the seventh seed.
They resumed in a first-set tie-break and Roddick dropped only one of the first seven points, but Del Potro levelled and from there the Argentinian was in control.
Roddick saved a match point to huge cheers from the patriotic crowd but it was not to be as Del Potro won 6-7 (1/7) 7-6 (7/4) 6-2 6-4 to set up a last-eight meeting with second seed Novak Djokovic.
World number 1,Davis Cup Winner,nine years in a row top 10,32 ATP tittles,Grand Slam Champion…@andyroddick So much #RESPECT..
In a tearful address to the crowd, Roddick said:
For the first time in my career I'm not sure what to say.

Where do I start? Since I was a kid coming to this tournament I felt lucky just to sit where you guys are today, watch the game, see champions come and go.

I've loved every minute of it.

It's been a road - a lot of ups, downs and great moments.

I've appreciated your support along way. I haven't made it easy at times and I really appreciate it, I love you guys with all my heart.

Hopefully I will come back one day and see you all again.
– Andy Roddick

Roddick's Grand Slam finals
2003 U.S. Open - beat Juan Carlos Ferrero, 6-3, 7-6 (2), 6-3.
2004 Wimbledon - lost to Roger Federer, 4-6, 7-5, 7-6 (3), 6-4.
2005 Wimbledon - lost to Roger Federer, 6-2, 7-6 (2), 6-4.
2006 U.S. Open - lost to Roger Federer, 6-2, 4-6, 7-5, 6-1.
2009 Wimbledon - lost to Roger Federer, 5-7, 7-6 (6), 7-6 (5), 3-6, 16-14.
Roddick in profile
Age - 30 (Aug. 30, 1982)
Birthplace - Omaha, Nebraska.
Residence - Austin, Texas
Height - 6-2
Weight - 195
Turned Pro - 2000
Career High Ranking - 1 (Nov. 3, 2003)
Earnings - $20,637,390
Singles Titles (Grand Slam) - 32 (1)
Singles Finals (Grand Slam) - 52 (5)
Doubles Titles - 4