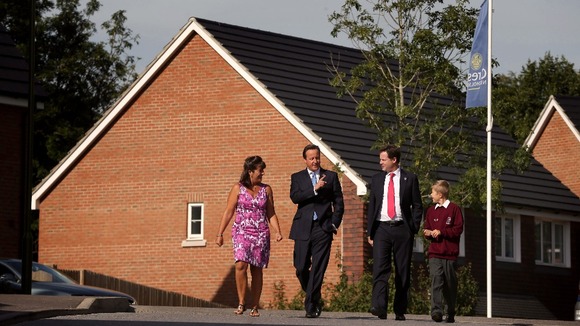 Planning restrictions on home and business extensions are to be relaxed by the Government in a renewed effort to kick start the economy. The coalition wants to make it easier for families and companies expand their property.
Prime Minister David Cameron and Deputy Prime Minister Nick Clegg also announced new loans for 16,500 first time buyers under an extension of the FirstBuy scheme. Would be homeowners without a deposit will be able to take a loan of up to 20% of the purchase price under the scheme. David Cameron said:
This government means business in delivering plans to help people, build new homes and kick-start the economy.

We're determined to cut through the bureaucracy that holds us back.

That starts with getting the planners off our backs, getting behind the businesses that have the ambition to expand, and meeting the aspirations of families that want to buy or improve a home.
David Cameron claims the reforms will "really boost the economy" by creating 140,000 jobs and building 70,000 new homes. The main changes to the current planning laws are as follows:
Homeowners and businesses will be able to build much bigger extensions without planning permission than at present.
The new Permitted Development Rights will make it easier to install conservatories and loft extensions without going through weeks of planning bureaucracy and form-filling.
Full planning permission - required for extensions of more than a few metres from the rear wall of any home - will only now be needed for those beyond six or eight metres, depending on whether it is terraced or detached.
Businesses will be able to expand shops by 100 square metres and industrial units by 200 square metres.
Shops and offices will be allowed to develop up to the boundary of the premises.
Nick Clegg said the changes will "get Britain building"
But Labour have said that "radical change" is needed to kick start the economy and that the new planning laws do not do anything to help struggling families.
Construction and property firms have broadly welcomed the plans, but say they do not go far enough. Liz Peace, chief executive of the British Property Federation said
Taken together these measures will certainly provide a shot in the arm for house building. However, they will only solve housing issues if accompanied by a significant package of other measures.

House builders are not on strike; they are simply not building because there are few people in a position to buy, or seeking to move. We are therefore pleased to see support to access home ownership and measures to encourage renting are also seen as important parts of this package.

Simply building homes for non-existent buyers has been tried before, in Spain and Ireland, with disastrous consequence.