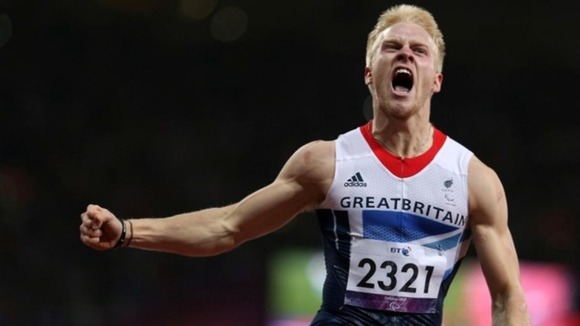 Great Britain's Jonnie Peacock has won gold in the men's 100 metre T44 final. The 19-year-old ran the race in record time, winning the race in 10.9 seconds.
GOLD: Great Britain's Jonnie Peacock
SILVER: USA's Richard Browne, 11.03
BRONZE: South Africa's Arnu Fourie, 11.08
South Africa's Oscar Pistorius came fourth, finishing in 11.17 seconds. Pistorius was the first to congratulate the delighted Jonnie Peacock, who said the whole experience was "surreal."
This is absolutely surreal. These games have been such a legacy and it is amazing to be part of that. I have so many people to thank....it is absolutely unreal. I knew the crowd was going to be on a high from Dave Weir's win.

I didn't think the crowd would be that loud, it was just so surreal. It was crazy, I couldn't believe I had won.
His record breaking victory set the Olympic stadium alight, the crowd celebrated by chanting his name as he performed a victory lap.
He was immediately congratulated by Olympic hero Mo Farah and London Mayor Boris Johnson.
Johnny Peacock!!!!! Well done son!!! That was awesome....!!! Shabba...!!!!
Heeeeere's Jonnie! Gold and a new record to boot. @jonniepeacock wins the 100m and our hearts and minds.
Peaocock said afterwards he said he could have ran even faster, but joked that his record breaking time was "not bad."
I think I could have and should have ran quicker. In that race I think I nailed it, not as good as training though. I needed to stay a bit stronger in my core, it was not bad though.
ITV Anglia first met Jonnie back in 1999, shortly after he had to have part of his leg amputated because of meningitis. Click here to see the determined six-year-old on his first day back at school.