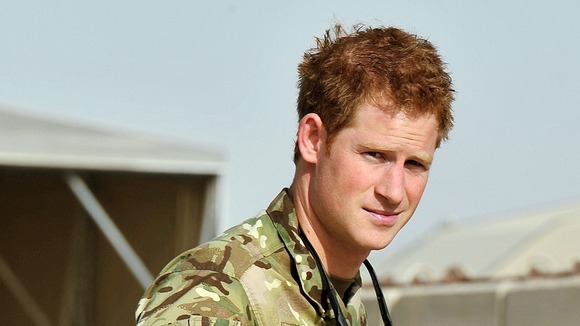 Prince Harry has been deployed to Afghanistan to fly helicopters in the fight against the Taliban. The 27-year-old army captain, who spent 10 weeks on the front line in 2007 to 2008, will be in the hot seat of a fearsome Apache during his four-month deployment.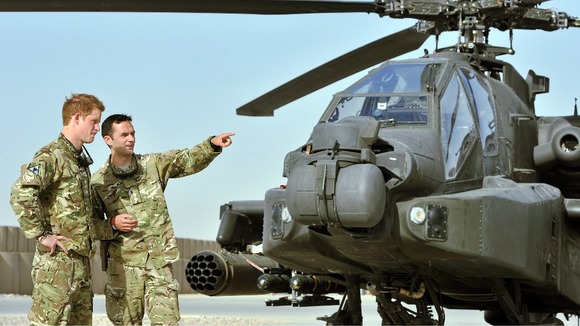 Having arrived in the war-torn country in the early hours today under the cover of darkness, Harry spent his first morning at Camp Bastion checking over the state-of-the-art Army aircraft he has likened to a "robot".
Royal Correspondent Tim Ewart reports:
He looked relaxed, if slightly tired, and gave a thumbs-up after a long journey on a standard troop flight from RAF Brize Norton in Oxfordshire.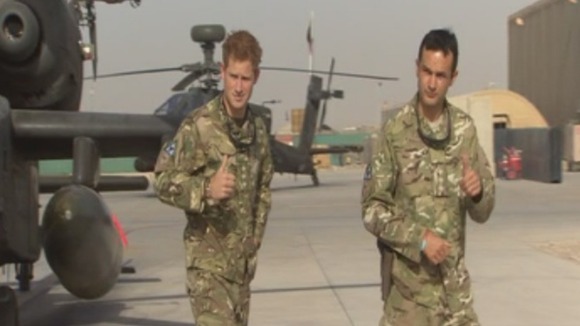 The royal climbed up to peer into the cockpit of one of the helicopters he will fly and crouched down to inspect its weapons. He wore his combat uniform and was joined on the Apache flightline by another unnamed member of the 100-strong unit he is posted to, 662 Squadron, 3 Regiment Army Air Corps.
Former Head of the Army Lord Dannatt tells ITV News that making Prince Harry's Aghan deployment public is the "right thing to do".
He's approached the deployment with a range of emotions like any other soldier and feels both pride and anticipation as he deploys for a job he's trained for, for so long.

Prince Harry, like any soldier, considers it a great honour to represent his country in Her Majesty's armed forces wherever it chooses to deploy him.
– St James's Palace spokesman

Harry was greeted at Camp Bastion in Afghanistan by the commander of the Joint Aviation Group, Captain Jock Gordon (Royal Navy).

Last time his deployment to Afghanistan was shrouded in secrecy.This time the world has been told about the Prince's tour of duty just after he arrived.

There are many reasons for the change of approach and the Ministry of Defence has agonised over the media plan for Prince Harry for months.