One Direction beat Justin Bieber and Rihanna to three MTV VMA awards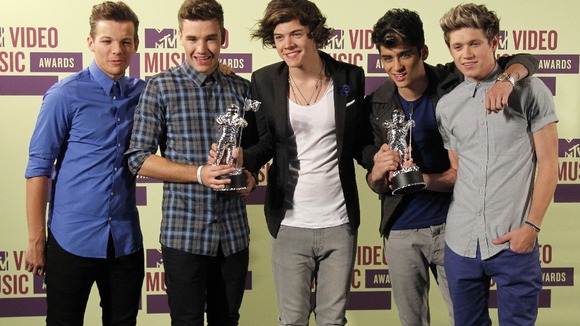 British boy band One Direction picked up three awards at the prestigious MTV Video Music Awards, crowning their arrival on the U.S. pop scene.
The five former X Factor contestants beat Justin Bieber and Rihanna for best pop video, and they also won the most-shareworthy video award for their debut hit single "What Makes You Beautiful" and New Artist.
We owe you everything. Thank you so much for this. Three VMAs!! YEAH .xx
Guys what the hell! You are incredible, 3 vmas ! We love u all soo much! All 3 of them are for u! Thank you!
Congratulations 1D. I'm very proud of you. Celebrate!
IF ONE DIRECTION DOESN'T PERFORM ON THE VMA'S I AM GONNA JUMP OFF THIS LEDGE
Thank you so much! We have grown up watching this show and to collect one of these straight away is incredible.
– One Direction's Niall Horan

One Direction also performed single "One Thing" to hordes of screaming girls.

R&B artist Chris Brown, sporting a gray silk suit and bleached white hair, collected the best male video award for "Turn Up the Music," while Calvin Harris was the winner of the VMA's first award in the increasingly popular electronic dance music category for "Feel So Close."

Rihanna, debuting a new pixie hair cut, opened the show with a high-energy medley of her hit single "We Found Love" and a remix of sexy number "Cockiness (Love It)" featuring rapper ASAP Rocky.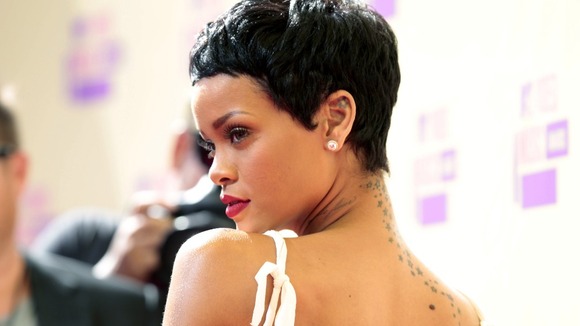 The R&B singer from Barbados went into the ceremony as joint top nominee with rapper Drake, with each getting five nominations. But an hour into the show, Rihanna was empty-handed.
Canadian rapper Drake won best hip-hop video for "HYFR" featuring Lil Wayne, which celebrates his Jewish heritage.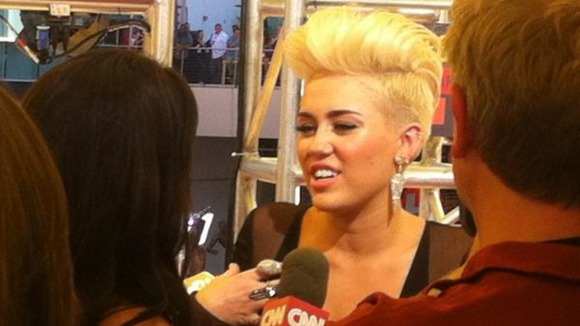 "I want to dedicate this award to any kid who has had a long walk home," Drake said.
Other performers included Pink and hip-hop artist Frank Ocean, with appearances still to come from country-pop singer Taylor Swift, Alicia Keys and punk rockers Green Day.
Vying for the biggest prize - video of the year - are Drake with "Take Care," Gotye for "Somebody That I Used to Know," Katy Perry for "Wide Awake," M.I.A. for "Bad Girls" and Rihanna for "We Found Love."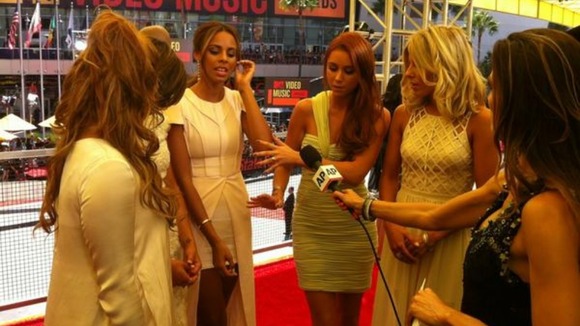 Key winners:
Video of the Year - Rihanna, featuring Calvin Harris, "We Found Love"
New Artist - One Direction
Pop video - One Direction "What Makes You Beautiful"
Rock video - Coldplay "Paradise"
Hip-hop video - Drake, featuring Lil Wayne, "HYFR"
Female video - Nicki Minaj "Starships"
Male video - Chris Brown "Turn Up the Music"
Electronic Dance Music video - Calvin Harris "Feel So Close"
Share-worthy video - One Direction "What Makes You Beautiful"
Video with a message - Demi Lovato "Skyscraper"